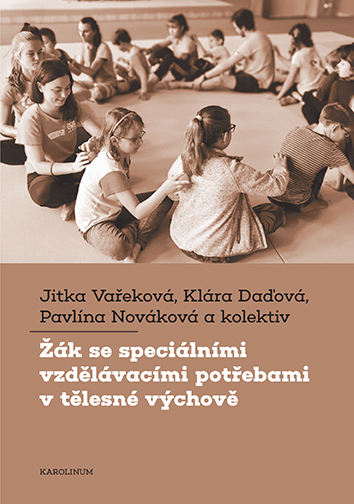 Žák se speciálními vzdělávacími potřebami v tělesné výchově
[Pupils with special educational needs in physical education]
Vařeková, Jitka – Daďová, Klára – Nováková, Pavlína a kol.
subjects: sports and physical education – pedagogy

e-book, 1. edition
published: september 2022
ISBN: 978-80-246-5281-8
e-book formats PDF
recommended price: 180 czk
summary
The book is intended for students and professionals in the area of physical education and sports, teachers in particular and also educators, teaching assistants, trainers and lecturers in schools, sports and free-time organizations.
The first part is theoretical. It explains the field of adapted physical activity, presents the principles and examples of support measures, and describes the role of the teaching assistant in physical education.
The second part of the publication offers practical instructions and tips for physical education practices for specific types of disorders, diseases, and disabilities.