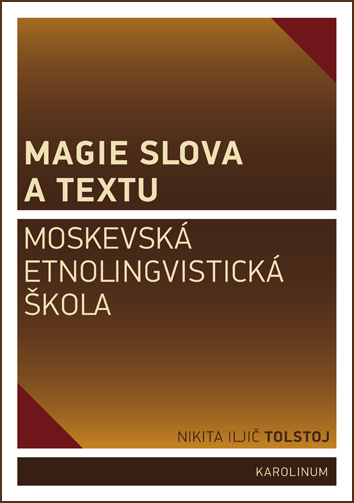 Magie slova a textu
Moskevská etnolingvistická škola
[The magic of words and texts]
subjects: linguistics

paperback, 90 pp., 1. edition
published: january 2016
ISBN: 978-80-246-2880-6
recommended price: 180 czk
summary
Ethnolinguistics is most frequently characterized as a science focusing on the relationship between the language and culture. This broad definition, however, includes a number of different approaches. This is due to the differently defined scope of ethnolinguistics or the nature of this relationship, the different research material or different concepts of the role of language in describing and grasping the surrounding world.
Magie slova a textu (The magic of words and texts) presents the research of the ethnolinguistic school in Moscow and its main representative, Nikita Ilyich Tolstoy. This school offers a new and different method of interpretation of various aspects of the traditional Slavic cultures and its research activities represent a unique ethnolinguistic approach in linguistics, making this school an authoritative and inspirational source for many scholars.
This collection presents the most significant texts by Nikita Ilyich Tolstoy, equipped with detailed comments by the editor, which helps Czech readers understand the work of the Moscow-based school.