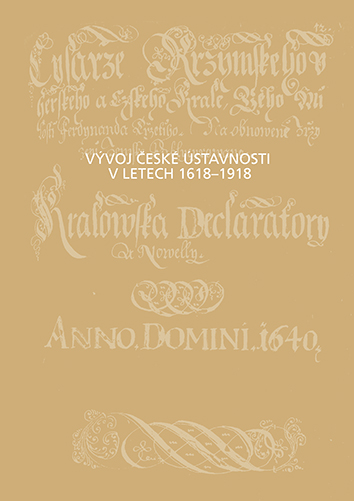 Vývoj české ústavnosti v letech 1618-1918
[The Development of the Czech Constitutionality in 1618-1918]
Soukup, Ladislav – Malý, Karel
subjects: law – legal history

hardcover, 1008 pp., 1. edition
published: february 2007
ISBN: 80-246-1209-7
recommended price: 585 czk
summary
The Constitutionality and Constitution of the Czech Crown belonged among neglected topics in the past. This new publication is a result of cooperation in interdisciplinary research of legal historians, historians and other experts from the Czech Republic, Slovakia, Germany, Austria and Poland. In the form of essays and critical editions it presents selected documents relevant for the study of the Czech political and legal culture, explains the development and real power of assemblies in the Czech Lands, the process of creating the state system and laws by an absolute ruler. It also addresses the fate of the Czech statehood in the 19th century, with information on the administration of the period and the development of autonomy. Special attention is paid to the constitutional problems of Moravia.
It also critically examines the negative standpoints to the Czech constitutionality concept both in the Czech political programmes and in the scholarly literature.
This collection will be a contribution to the solution of current social problems of traditions and continuity of the contemporary Czech statehood - the relationship of the state of the Czech Crown and the Hapsburg dual monarchy, now of current interest also because of the position of the Czech law and state within the European Union and other international structures.