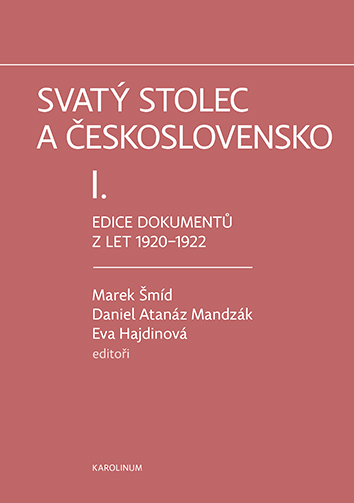 Svatý stolec a Československo I.
Edice dokumentů z let 1920–1922
[The Holy See and Czechoslovakia I. Documents from 1920–1922]
Šmíd, Marek – Mandzák, Daniel Atanáz – Hajdinová, Eva (ed.)
subjects: history – 20th century, religion, political science and international relations

paperback, 514 pp., 1. edition
published: august 2022
ISBN: 978-80-246-4924-5
recommended price: 590 czk
summary
The first volume of a new series presents an edition of summary diplomatic reports of the Czechoslovak embassy to the Holy See during the era of the First Republic. It is based primarily on the Political Reports – Vatican collection, which is stored in the Archives of the Ministry of Foreign Affairs of the Czech Republic in Prague, and contains approximately forty commented and contextualized copies of documents from the period 1920 to 1922.