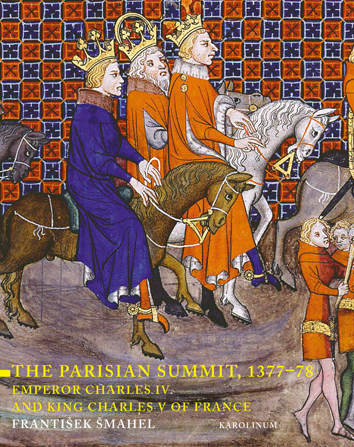 The Parisian Summit, 1377–78
Emperor Charles IV and King Charles V of France
subjects: history – medieval

hardcover, 480 pp., 1. edition
published: january 2015
ISBN: 978-80-246-2522-5
recommended price: 1080 czk
summary
The Czech king and Roman Emperor Charles IV met with the French king Charles V in Paris in 1378. Reconstructing the journey to this meeting with deft narrative talent, František Šmahel traces the king's progress from Prague to Paris, piecing together a modern chronicle from contemporary French scholarship and medieval literature. The result is an appealing account of medieval life, everyday intellectualism, grand European politics of the time, and even medieval cuisine.

Šmahel sets the stage by presenting details of the life of Charles IV, including his early days in Paris and the political and international goals of his father, John of Luxembourg. The author then presents a transcription of richly illustrated French chronicles of the historic meeting and offers an analysis of the importance of the conclave of the two most powerful European rulers of the time. Finally, Šmahel considers, in individual studies, the practical organization of medieval festivities, including their logistics, transportation, culinary details, court manners, relationships, and symbols.

With techniques borrowed from the fields of archaeology and microhistory as well as cultural anthropology and iconography, The Parisian Summit, 1377–78 is a highly readable account of medieval lives and times that will appeal to historians as well as nonacademic audiences.


table of contents
Preface to the English Edition

PROLOGUE: THE LUXEMBURGS AND FRANCE 1322-1377

The Childhood Years of the Two Charleses
A Bleak Childhood - 'Monseigneur Charles de Bohême' - France on the Eve of the Hundred Years' War - The Heroic Death of King John - The Childhood Years of the First Dauphin - Charles of Valois

Metz 1356: The First Meeting of the Two Charleses
The Holy Roman Empire at the Beginning of Charles IV's Reign - Charles' Court and Offices - The First Years of the Reign of King of the Romans Charles IV - Finally Emperor - Charles' Policy Concerning France - The Emperor's Christmas Reading in Metz - The First Imperial Banquet Following the Golden Bull

Dauphin Charles 1357-1364: Basking in Glory and Eclipsed
Caught in the Tide of the Urban Revolt - Peasant Uprising - The Jacquerie - The Peace Treaty of Brétigny - In the Shadow of His Father's Policies

France during the Reign of Charles V the Wise
The First Steps of the New King - In the Grip of Brigand Troops and Small Warfare - The Renewal of State Administration - The Reconquest of Lost Lands - The Intellectual Environment of the Court - Paris and Its Environs at the End of the Reign of Charles V

European Dimensions of Charles IV's Reign
Prague, Head of the Lands of the Bohemian Crown - Clerics and Scholars on Journeys: Prague - Paris - Avignon - Courtiers, Diplomats and Men in the Background - In the Public Eye: Court and Other Festivities, Rituals and Ceremonies - The Great Summits of Emperor Charles IV - An Unexpected Decision to Visit Paris - Late Arrival in France

An Introductory Word to the Readers

THE ACCOUNT OF THE GREAT CHRONICLES OF FRANCE ON THE JOURNEY OF HOLY ROMAN EMPEROR CHARLES IV TO FRANCE

EPILOGUE: REPERCUSSIONS AND IMPLICATIONS OF THE PARISIAN SUMMIT
The Last Years of the Reign of Charles V - The Beginning of the Ecclesiastical Schism in the Head and in the Limbs - The Repercussions of the Schism in Prague and the Emperor's Death - Bohemia and France at the Beginning of the Reign of Wenceslas IV

EXCURSUSES AND INVESTIGATIONS
Looking Back at the Existing Literature
I. The Account of the Great Chronicles of France and Associated Written Sources
II. Pictorial Series and Illustrations
III. King of France - Emperor in His Own Kingdom
IV. The Beautiful Orchestration - Belle Ordonnance
V. Welcoming Processions and Ceremonial Entries
VI. Nothing but Horses: Their Numbers, Types and Colours
VII. Clothes, Fabrics and Colours
VIII. Where the Emperor Stayed in Paris
IX. Ceremonial Banquets in the Palace de la Cité
X. Tableware
XI. The Menus of the Parisian Feasts
XII. Dramatic and Musical Productions during the Intermissions (Entremets)
XIII. The Gifts for the Emperor and His Retinue
XIV. Book Gifts, Relics and the Small Mysteries around Them
XV. The Final Account of the Expenditures of the King's Treasury

Appendix
List of Abbreviations
Family Tree of the Valois Dynasty
Luxembourg Dynasty
Bibliography of sources and secondary literature
List of figures
List of miniatures
Name Index


reviews
In November 1377, Emperor Charles IV journeyed to France to visit his nephew, King Charles V. Ostensibly, the summit had three aims: to view holy relics, participate in a pilgrimage, and speak with the French monarch. In this magnificently illustrated and documented work, the meeting and its resultant declaration of imperial support for France against England are in some ways the least important topics covered. The prologue of the book covers almost 170 pages of text, providing details of the childhoods of both men, their first meeting in 1356, and the difficulties Charles V experienced in establishing his reign. An edition of the passage describing the summit from the Grandes Chroniques de France follows, to which Šmahel (medieval studies, Charles Univ., Prague) appends an analysis in a brief epilogue. The remainder of the work takes the form of "excursuses" or short sections investigating the historiography of the Grandes Chroniques, their illustrations, and topics of social and cultural import such as court etiquette, processions, horses, clothing, palaces, meals, and gifts. A cursory index and some inelegant translations do not diminish the value of a work that will introduce many readers to the extensive research of Czech scholars.

Summing Up: Highly recommended. Upper-division undergraduates and above.

L. C. Attreed, University of Chicago Press, CHOICE connect, January 2016 Vol. 53 No. 5