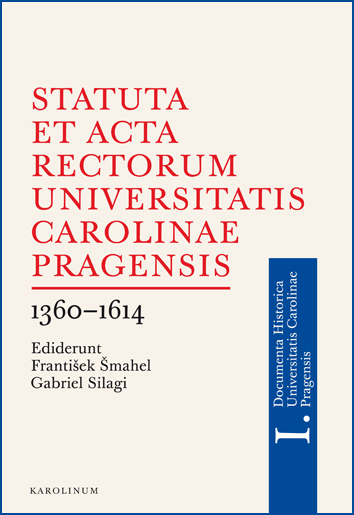 Statuta et Acta rectorum Universitatis Carolinae Pragensis
1360–1614
Šmahel, František – Silagi, Gabriel
subjects: Charles University, history – medieval

hardcover, 1. edition
published: december 2018
ISBN: 978-80-246-4024-2
recommended price: 540 czk
summary
In medieval universities the written constitution had a statutory character and represented a key instrument of
internal organisation. As for the faculties, it was also the
directive for lectures, examinations and the awarding of academic degrees. Charles University's first such constitution
was issued in 1360 by its chancellor, Archbishop Arnošt of Pardubice. Shortly afterwards the university, as well as its four faculties, gradually developed their own constitutions,which remained valid until the beginning
of the seventeenth century. Only a fragment of the original extended constitutions of the university has been preserved. Of equal importance, therefore, are the rectors' agenda (acta rectoratus) that were continuously recorded in the official annals. This new series of thematically related editions covers
these subjects and shall, in due time, fill the gaps in our
knowledge of the history of Charles University. Preface and Introduction are in both Czech and German; the book features a large comprehensive English summary.