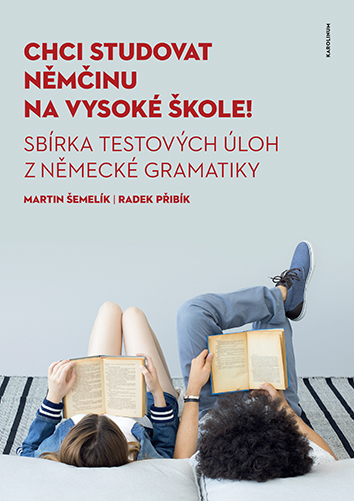 Chci studovat němčinu na vysoké škole!
Sbírka testových úloh z německé gramatiky
[I want to study German at the university!]
Šemelík, Martin – Přibík, Radek
subjects: language textbooks, linguistics

paperback, 90 pp., 1. edition
published: february 2021
ISBN: 978-80-246-4754-8
recommended price: 150 czk
summary
Are you considering studying German at the university? Or are you already studying German at the university and just want to refresh your knowledge? This collection of test exercises on German grammar provides users with the opportunity to practice a diverse range of grammatical phenomena. The publication contains a total of ten comprehensive tests, which include exercises at approximately the level of B1 – B2 of the Common European Framework of Reference, sometimes even more demanding. The individual exercises are of various types – completion, transformation, error correction, translation, etc. There is a key for all tests at the end of the publication, which can be used to check the solutions.