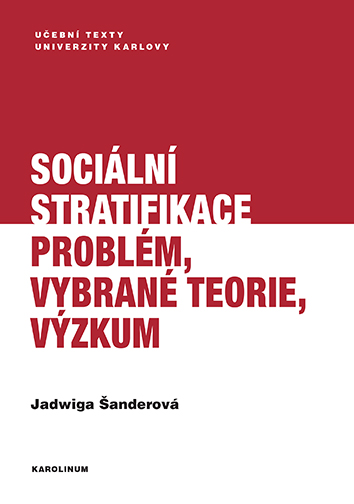 Sociální stratifikace
Problém, vybrané teorie, výzkum
[Social stratification. Problem, selected theories, research]
subjects: sociology

paperback, 176 pp., 2. edition
published: may 2022
ISBN: 978-80-246-5191-0
recommended price: 220 czk
summary
This book, first published in 2000, was conceived as a textbook for a course that the scholar taught to first-year students of sociology at the Faculty of Social Sciences, Charles University. The current edition is the same as the original, it has not been revised or supplemented.
The text is divided into four sections. The first one defines the problem and frames it theoretically. Social stratification is explained as a specific type of social structure and as a distribution inequality. The second section focuses on basic theories, both classical and contemporary. It does not and cannot aim to provide an exhaustive overview of the successes and failures in this field of research to the date. It presents three basic trends in contemporary theories and research of social stratification and their roots in the works of their representatives. Understanding different explanations of social inequalities facilitates the understanding of essential concepts and the controversies surrounding them. Essential concepts are analyzed in the third section, while the last section provides the readers with an overview of how research into social stratification is conducted and helps them acquire a healthy skeptical view of empirically supported conclusions. The book also includes brief information on research into social stratification in the Czech Republic and a passage on the complications that employment of women introduced to the research of class structure. Each chapter closes with a brief summary and recommended literature, which should be updated and complemented by teachers to align it with their concept of the course.
When selecting topics, problems and authors, the scholar primarily aimed to provide her students with essential guidelines for reading contemporary Czech and world literature devoted to this theme, while at the same time maintaining an acceptable scope for a one-semester course. It strives to present the problem from different perspectives, while not favoring any one of them and avoiding judgments.