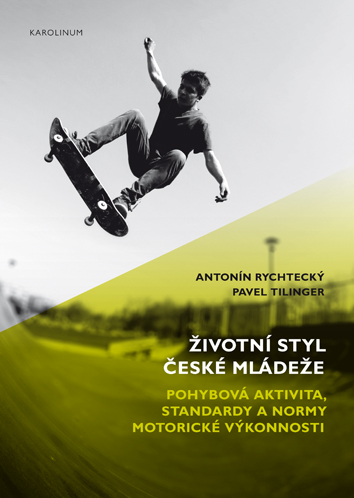 Životní styl české mládeže
Pohybová aktivita, standardy a normy motorické výkonnosti
[The lifestyle of Czech young people]
Rychtecký, Antonín – Tilinger, Pavel
subjects: sports and physical education

e-book, 1. edition
published: january 2018
ISBN: 978-80-246-3770-9
e-book formats PDF
recommended price: 180 czk
summary
This monograph answers questions on the lifestyle, sports activities and motor performance of Czech youth. It evaluates the participation of Czech young people (aged 10–19) in sport and physical activities (organized as well as unorganized) in the context of their lifestyles, psychosocial, social and cultural aspects as well as physical performance, comparing the engagement of Czech young people in sports with European overviews as well as earlier national studies from 2000, 2006 and 2014/15. Using the COMPASS methodology, it identifies and evaluates the trends in the changes in sports interests and other free-time activities in which the young people engage, assesses the physical performance of the young comparing it to similar data from 1966, 1987 and 2006. It also sets standards for physical fitness and physical performance of the young.

The monograph opens up a discussion on selected current issues, including data on sport and physical activity of young people in the Czech Republic.

The book is intended primarily for teachers of physical education and sport, coaches and students of physical education and sport.