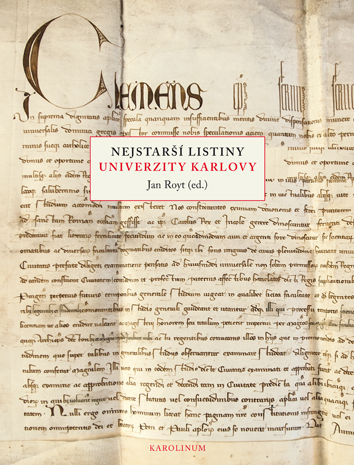 Nejstarší listiny Univerzity Karlovy
[Oldest documents of Charles University]
subjects: Charles University, history

paperback, 72 pp., 1. edition
published: october 2018
ISBN: 978-80-246-4175-1
recommended price: 200 czk
summary
On the occasion of the 670th anniversary of its foundation, Charles University acquired two historical documents, which are significant for the university itself as well as for the history of Czech and European education: an original of the document issued by Pope Clement VI and dated January 26, 1347, which contains the Pope's consent with the establishment of a university in Prague, and a notarial instrument, initiated by the Chapter of Prague and dated June 30, 1347, with a transcript of this document and a list of witnesses certifying the authenticity of the transcript. It is an extraordinary discovery as the only hitherto known copy of the document was lost at the end of World War II.
The documents were made for the Archbishop of Prague and they disappeared from his archive or from the archive of the St. Vitus' Chapter under unknown historical circumstances eventually ending up in a private collection. They were offered to Charles University by an intermediary in the middle of June 2018. The genuineness of these documents was verified by leading Czech experts in paleography and diplomatics and both documents have been deposited in the Charles University Archives.
The book contains facsimiles, a transcription of the Latin text and its translation into Czech, images documenting the state of the documents and accompanying texts.