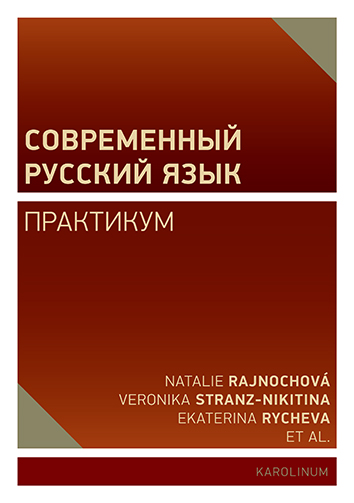 Современный русский язык
Практикум
[Contemporary Russian. A textbook]
Rajnochová, Natalie – Stranz-Nikitina, Veronika – Rycheva, Ekaterina et al.
subjects: linguistics, education

paperback, 336 pp., 1. edition
published: may 2022
ISBN: 978-80-246-4850-7
recommended price: 410 czk
summary
This Contemporary Russian textbook provides systematic theoretical and practical knowledge of Russian grammar in comparison to the Czech language, helps build sound grammatical knowledge and develop competence in communication. It is based on the principles of the development of individual competences in students and consists of exercises at different levels of difficulty. The book is thus suitable for beginners as well as advanced students. Thanks to the high number of exercises with key, it can be used as a source of materials for consolidation of the covered topics in different types of school.
The textbook consists of a foreword, a list of abbreviations, six chapters (corresponding to the six word classes covered), a key to the exercises, recommended literature and a glossary.
Each of the chapters has three parts – a theoretical section, basic and optional exercises.