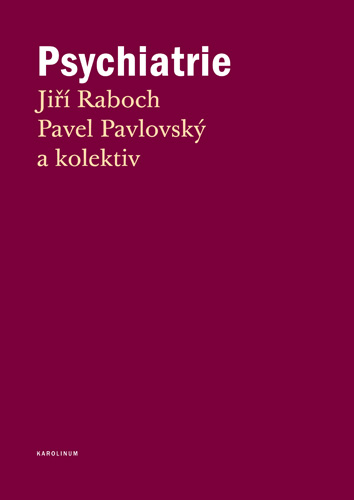 Psychiatrie
[Psychiatry]
Raboch, Jiří – Pavlovský, Pavel a kol.
subjects: medicine, medicine – psychiatry

e-book, 1. edition
published: july 2014
ISBN: 978-80-246-2712-0
e-book formats PDF
recommended price: 260 czk
summary
This psychiatry textbook is intended primarily for medical students. The scope of many of its chapters however exceeds the pre-graduate study requirements thus providing a quantity of information important also for postgraduate study, useful during the preparation for the postgraduate examination as well as for daily use in clinical practice. The texts of most chapters were written by experienced doctors of the Psychiatric Clinic of the First Medical Faculty, CU in Prague, who in addition to the primary psychiatric themes also focused on those covered less frequently in basic textbooks: clinical psychology, psychiatric genetics, biology, biochemistry, pharmacogenomics and aggression. As special chapters are devoted to children's, transcultural, social, forensic and military psychiatry, apart from students and psychiatrists, experts in other fields will also find this textbook useful.