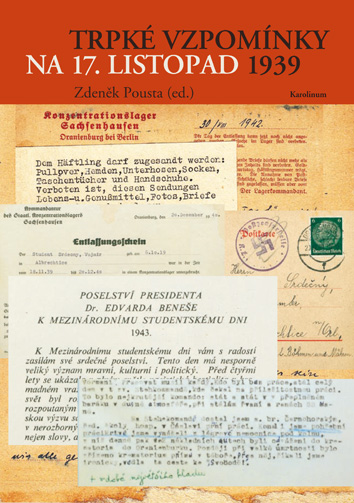 Trpké vzpomínky na 17. listopad 1939
[Bitter Memories of November 17 1939]
subjects: history – 20th century, biographies and memoirs

paperback, 224 pp., 1. edition
published: november 2014
ISBN: 978-80-246-2824-0
recommended price: 250 czk
summary
This collection, published on the occasion of the International Students' Day – Day of the Fight for Freedom and Democracy, supplemented by many photographs, aims to contribute to the conscientious efforts to make sure that events that occurred 75 years ago would not be forgotten. The publication also contains several texts dating from 1945. They were written in an emotional tone and they are also valuable as documents bearing witness to the time of their origin. In addition, these articles, first published almost seventy years ago, are not easily accessible. They are followed by four accounts written by those who were imprisoned as students, written over the past ten years, and a report on activities of Czech students-soldiers in England written by MUDr. Karel Macháček, a member of the student committee in exile.
The second part, focusing on the post-war period, opens with a speech and a message by President Edvard Beneš, followed by an editorial, written by JUDr. Vojtěch Jandečka, one of the main organizers of the international students' congress in Prague and a respected personality of the student movement, and later, a political prisoner in the 1950s. For illustration, the chapter also contains three speeches delivered during the annual memorial ceremonies at the Hlávka Dormitory and at the Ruzyně Memorial (1939–1941) located on the premises of the former November 17 Barracks in Prague-Ruzyně. These are followed by an article by Ing. Josef Jíra, written in 2001, describing his vain efforts to restore the original dignified name for the international holiday.
Finnish researcher Johanna Kulmala, who studies letters as a method of mental connection between people in extraordinary life conditions, also used Lorenc's correspondence from Sachsenhausen in her research.
PhDr. Jiří Pulec, the head of the Archives of Masaryk University in Brno, supplied this publication with a cyclostyled typewritten version of Rudolf Mašek's Z deníku padlého letce (From the Diary of a Fallen Pilot) from the Archive's collection. It represents an unknown contribution to the difficult paths for students to the forming a Czechoslovak foreign army in the west.
The closing section contains comments on the international conference (papers by Marek Ďurčanský, Zdeněk Pousta and Petr Svobodný), which was held between November 21–23, 2009, in the Sachsenhausen Memorial and Museum.