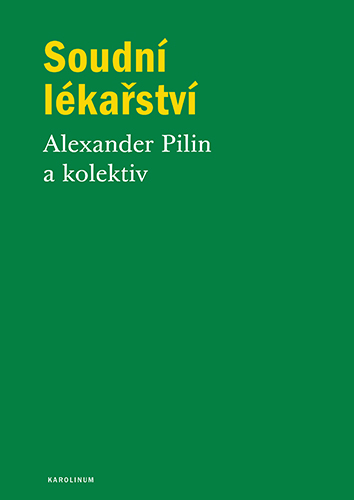 Soudní lékařství
[Forensic medicine]
subjects: medicine

hardcover, 480 pp., 1. edition
published: march 2022
ISBN: 978-80-246-5013-5
recommended price: 550 czk
summary
Forensic medicine and forensic toxicology are fields which are classified as being part of healthcare in the Czech Republic, but are also related to law enforcement and the judiciary. Autopsies reveal the causes of natural death and in cases of violent death, its mission it is more closely related to forensic investigation, where during investigations of crimes against life and health, it reveals the rise and seriousness of health failures. If a health failure becomes a crime, it provides explanation in court to help in issuing a judgement.
The book covers all areas of forensic medicine. It clarifies the position of the field in society and lists the legislation governing the fields of forensic medicine and forensic toxicology. It discusses in detail the phenomena related to death and the activities of the physician at the scene where the deceased was found. It introduces the detailed structure of an autopsy, consisting of the autopsy protocol with the cause of death. The most common causes of sudden death are described. It discusses in detail the causes of health disorders from external causes and which lead to violent death, or the origins of survivable injuries and the evaluation of the seriousness of these injuries. A large amount of attention is paid to toxicology, where general knowledge from the field is presented as well as the effects of individual groups of inorganic substances, medications, and organic substances. The section dedicated to new psychotropic substances is also of importance. In addition to plant-based toxins, it also discusses animal and fungal toxins. The part on the legal medicine concentrates on the relationship of the physician to criminal and civil court proceedings and on the responsibility and duties of health-care professionals. A completely new chapter on non-pecuniary damage to health is also included. The overview lists the most important laboratory methods and procedures used during the identification of unknown persons. In the chapter on forensic genetics, the book discusses molecular approaches in forensic medicine.
The text is accompanied by numerous photographs and descriptions of several real cases. The book is intended for both pre- and post-graduate medical students, forensic physicians, and is also appropriate for law students, police academies, police officers, lawyers, judges and last but not least for those who are interested in the field.