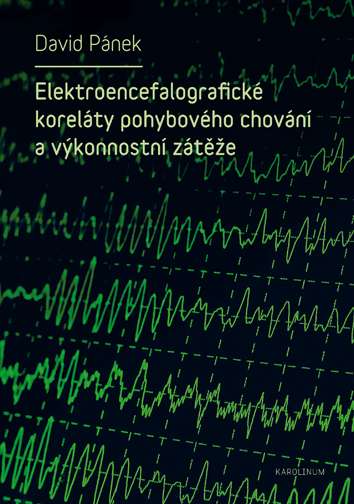 Elektroencefalografické koreláty pohybového chování a výkonnostní zátěže
[Electroencephalographic correlations of physical activity and high-performance strain]
subjects: sports and physical education, sports and physical education – training

paperback, 106 pp., 1. edition
published: april 2017
ISBN: 978-80-246-3435-7
recommended price: 140 czk
summary
This work focuses on the evaluation and interpretation of changes in electric activity in the brain during prolonged physical activity. It presents a new method of evaluation of intracerebral sources of brain activity using the sLORETA program in combination with physiological strain methods. It demonstrates the possibility to display brain activity, including deep brain structures, while monitoring metabolic rate. This allows for an evaluation of brain activity during aerobic and anaerobic metabolism and even for a sensitive determination of required physical strain in advance.
The book is divided into three sections. The first one focuses on the methodology of processing the electroencephalographic signal using the sLORETA program, including statistical processing and subsequent 3D images. The second section, presenting the research, covers the relationship between brain activity and movement. The third, experimental section presents a study examining changes in brain activity during escalated exercise stress testing on a bicycle ergometer in a group of 43 probands, including endurance athletes, soldiers and non-athletes. The results show different behavior between probands from different groups, which reflects their emotional experiences during physical activity and adaptability to increased physical strain.
The methodology may be used in sports and rehabilitation medicine, but it also allows for deepening the study of the influence of physical activity on brain activity in many neurological and internal diseases.