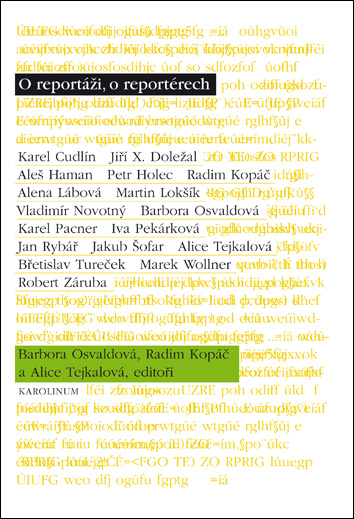 O reportáži, o reportérech
Osvaldová, Barbora – Kopáč, Radim – Němcová Tejkalová, Alice (eds.)
subjects: media and communications

paperback, 132 pp., 1. edition
published: june 2010
ISBN: 978-80-246-1781-7
recommended price: 165 czk
summary
It would seem that covering news is easy. It is a genre of eyewitness testimony: the author should be present at the events, write what he saw, and conduct interviews with several witnesses. He should then select a carrier for the story (either positive or negative), record authentic statements, and voila, it's done. But it is apparent from the texts gathered by the authors of this monograph that it is not that simple. Eyewitnesses often (and with no bad intent) make mistakes, while some others will distort the facts. It is not sufficient to simply make a record of the event, it is necessary to seek out and find interesting details and base the news report primarily on them.
During the gathering of reports, the editors, just as in the previous monographs (dedicated to the genres of feuilleton, interview and essay), addressed several dozen authors. Some answered that they did not feel up to the given theme, while others promised to contribute an article, but did not keep that promise. Even so, the gathered texts contain the most interesting information presented by the genre of contemporary news coverage - in print, radio, television or on the Internet.
The monograph originated as a further contribution to the scientific project "Transformations and Perspectives of Journalism in the Era of Digital Media" (code MSM 0021620841).