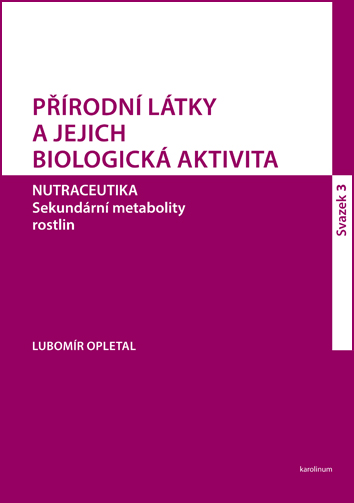 Přírodní látky a jejich biologická aktivita, sv. 3.
Nutraceutika. Sekundární metabolity rostlin
[Natural substances and their biological activity, Vol. 3]
subjects: science – chemistry, science – biology, medicine – pharmacology

paperback, 700 pp., 1. edition
published: july 2016
ISBN: 978-80-246-2084-8
recommended price: 490 czk
summary
Secondary metabolites in plants are substances that have currently been studied intensively from the perspective of their potential use as drugs and food supplements. This monograph continues where Volume 1, which focused on primary metabolites and substances of structured biological systems, left off. The division of substances is based on their biogenesis (metabolites based on 2-methylbuta-1, 3 diene units – terpenes, metabolites based on shikimate – a phenolic compound, and substances arising from the amino acid metabolism) and covers all of the essential types of structures that possess usable biological effects. For each substance, plants, extracts and other forms, which are used or proposed for the use as a food supplement, it presents its chemical composition (parent plant), formula(s), effects and use, contraindication, undesirable effects and side effects, interaction with drugs administered at the same time and dosage. Each of the three main chapters is concluded with a list of the secondary literature used.