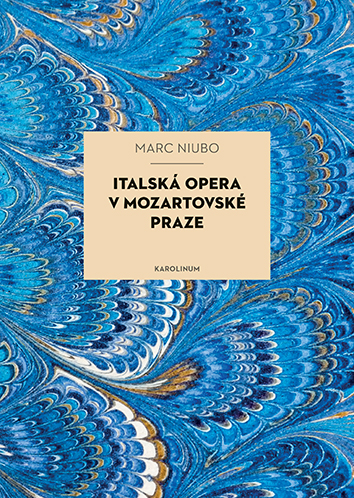 Italská opera v mozartovské Praze
[Italian opera in Mozart's Prague]
subjects: music, history – early modern

paperback, 302 pp., 1. edition
published: march 2022
ISBN: 978-80-246-4843-9
recommended price: 390 czk
summary
This book focuses on one of the key periods in the history of theater in Prague, the peak years of the Italian opera, 1781–1785, which had a major impact on the world-wide famous production and reception of works by W. A. Mozart. The theme is addressed through two mutually complementary viewpoints: as a history of opera in Prague and as a probe into the Italian repertoire at the time. The book explains the conditions for the opening and operation of the opera in the Thun Theater and subsequently also in the Nostitz Theater, the course of the seasons, and analyzes the main features and important themes of the repertoire, which is also assessed in an international context. Mozart's forms another interpretive framework.
The book is based on a thorough reevaluation of existing literature, new sources and analyses of operas, most of which have not been covered in international scholarly literature. In addition, the book also includes extensive appendices, including a list of repertoires, transcribed documents, and brief biographies of Italian performers.

Related events
V rámci čtvrtečního programu knižního veletrhu Svět knihy se uskutečnilo uvedení knihy Marca Niuba Italská opera v mozartovské Praze.