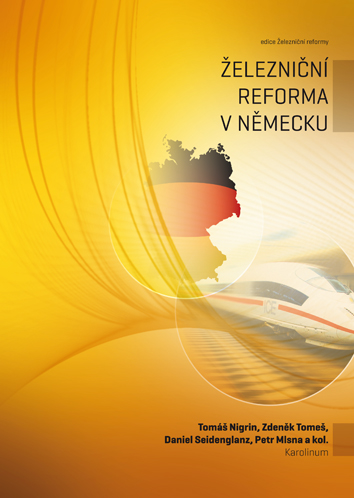 Železniční reforma v Německu
[Railroad reform in Germany]
Nigrin, Tomáš – Tomeš, Zdeněk – Seidenglanz, Daniel – Mlsna, Petr a kol.
subjects: political science and international relations

paperback, 148 pp., 1. edition
published: august 2017
ISBN: 978-80-246-3627-6
recommended price: 240 czk
summary
Germany has always been one of the most significant centers of railroad transport in Europe, being one of the countries with the most complex railroad reform and the liberalization of the railroad sectors in the world. This monograph, which focuses on the development of the railroad sector in Germany over the past decades and the reform which transformed the railroad system entirely, combines historical, political, geographical and legal views. It demonstrates the political principles of the existing railroad reform, including the impacts of the reunification of Germany in 1990, characterizes the geographical situation from the perspective of transportation, covers its legal framework and selected issues that occurred during its implementation.
The book was written for the "Railroad Reforms" series, which covers theoretical perspectives as well as examples from selected European countries.