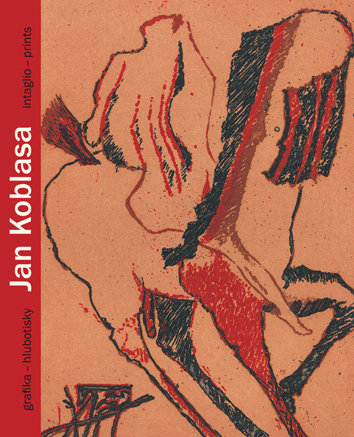 Jan Koblasa. Grafika - hlubotisky
[Jan Koblasa - Intaglio prints]
subjects: art

paperback, 264 pp., 1. edition
translation: Key, Petra
published: february 2011
ISBN: 978-80-246-1811-1
recommended price: 274 czk
summary
His temperament and the nature of his work rank Jan Koblasa among artists of Renaissance fight and Baroque character. Although he considers himself primarily a sculptor, he can impart his messages just as well in painting, drawing, printing, writing and stage design. He is guided by a rich creativity and an innate artistic intelligence. His work is polymorphous and multifaceted, focusing from the very beginning on a fundamental topic: man and world. He approaches this as though it were a large Theatrum Mundi; at one instant, viewed by a romanticist, at another with existential and mystical orientation, and then with ironic overstatement and unrestrained sensuality, at yet another time completely the contrary - with meditative contemplation and objectivity. Yet never superfcially or from a merely aesthetic point of view. His art is driven by the utmost concentration and deep inner immersion. He knows, as he wrote on his work, that "it is necessary to fnd the right - magic formula - to excite the matter so much - that it will light up," and later he explains that "I want to say what it is and how it is - yet not to describe or depict the surface / the visible - I am trying to say the more fundamental - the thing that is in consciousness - in unconscious / of phenomena and objects in my consciousness and unconscious about phenomena and things - what is at the beginning and at the end / what unites and ties / one with the other ..."(1)
The scope of his intellect and expression, in which fgurative and abstract elements entwine and mingle, corresponds to the variety of artistic techniques, methods and experimentation, and his printmaking is no exception to this rule. It is another means for him to try and grasp and express the multifarious character of a human life, its states and situations, be it directly or through metaphors and parables.
It was his curiosity, his hunger for adventure, his urge to learn the new, untried - the unexperienced, which brought him to printmaking. It tempted him with its emotional delicacy and the "magic" felt when printing. It reminded him of chamber music and poetry - "the areas of the spirit," which he was close to from the very beginning - it led to a synthesis of thought. It was an exclusive inner world, which could not be achieved in any other way. In addition, each of his prints is "read" - as with a written text - closely; each point, line, plane, various light nuances, the depth and intensity of scratch, structure, colours, contrasts and other subtleties here carry messages - the required messages. There are differences between lines, an engraved line - the essential and leading nerve of a print - is different, an etched line is different; scratched, cut, and brushed lines are also different. It is important to know the rules of this unique world. As he told me in an interview and as he mentions in his accompanying text, he was introduced to them during his studies by Jaroslav Kadlec, his schoolmate at the Prague Academy of Fine Arts.
He would choose and continues to choose his topic from his drawings - the sole medium which can capture the unique harmony of eye, mind and hand. Among these he chooses those which most convincingly express the idea and which invite their realization as prints.
As we know from the artist's other works, a print is not a description either, albeit it is often based on external impulses: from experiences of music, nature, literature, philosophy, from the knowledge of the Bible and ancient cultures. Quite on the contrary, it is an overall grasp, fnding the right "key," an appropriate means of expression and material to give the idea the right wings. Only after that does the creative process start; its outcome being sets of print cycles, often of different orientation both as to content and ideas, though they were created at the same time. It is this that also focuses the intention and offers a method of grasping the ungraspable in the changeability and richness of life and world.
This book - a catalogue - presents only a segment of the artist's prints. It focuses on intaglio prints, on prints in drypoint, etching, and etching and aquatint, thus becoming the frst step to processing his extensive printmaking works. For the moment, we have omitted his extensive sets of woodcuts, lithographs,

works of serigraphy and computer graphics, as well as numerous monotype cycles, the rendition of which is close to painting and whose unique character of single prints eludes the duplicating techniques typical of graphic art.

(1) Jan Koblasa, Motto, in: Mahulena Nešlehová, Jan Koblasa. Prague, Karolinum Press 2002, p. 18; published also in Jan Koblasa, O tom. Contemporary Czech Poetry Series, Příbram and Červený Kostelec. Jan Drda Library and Pavel Mervart Publishing House, 2006, p. 12.

table of contents
Koblasovy hlubotisky (Mahulena Nešlehová)
Předmluva
Počátky - éra Šmidrů
Hmota dotýkaná a rozrušovaná - proniky do plochy a prostoru
Apokalypsis
V řeči podobenství, symbolů a mýtů
Oslovení přírodou - buddhistická tematika
Tělo a o těle
Gilgameš a Máchův Máj
Ve víru živlů

Koblasa's Intaglio Prints (Mahulena Nešlehová)
Preface
Beginnings - The Šmidras Era
Matter Touched and Disturbed - Penetrations into Plane and Space
Apocalypsis
Parables, Symbols, Myths
Interested in Nature - Buddhist Topic
Body and About the Body
Gilgamesh and Mácha's May
In the Swirl of Elements

Biografcké údaje / Biography

Bibliografe / Bibliography

Katalog / Catalogue