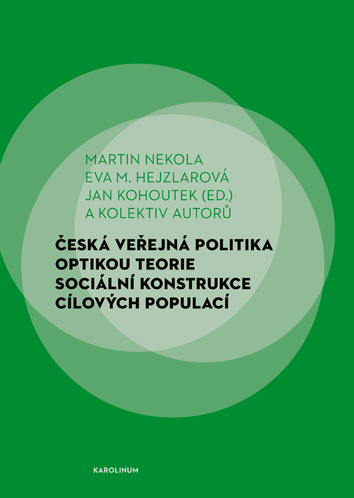 Česká veřejná politika optikou teorie sociální konstrukce cílových populací
[Czech public policy through the lens of the theory of social construction of target populations]
Nekola, Martin – Hejzlarová, Eva – Kohoutek, Jan a kol.
subjects: sociology

paperback, 432 pp., 1. edition
published: august 2020
ISBN: 978-80-246-4557-5
recommended price: 460 czk
summary
Eight case studies are based on the theory of social construction of target populations, which the book also presents in detail. It is the first extensive and deep application of this theory in the Czech environment. Using specific cases, it examines the influence of the character of the target group on the content of Czech public policies. It is a valuable source of information for academics who design public policies as well as for those who are only interested in partial policies and practical aspects, which are described and analyzed in the book from a long-term perspective. The book offers an up-to-date and original record of the development of public policies in the Czech Republic.