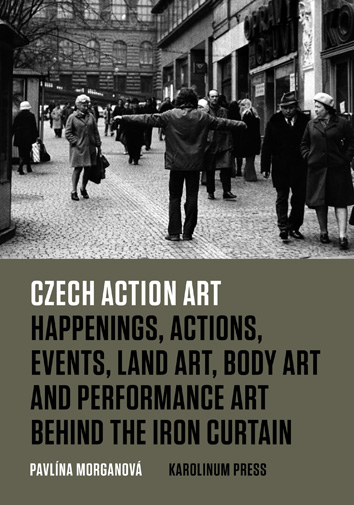 Czech Action Art...
paperback, 288 pp., 1. edition
translation: Morgan, Daniel
published: march 2014
ISBN: 978-80-246-2317-7
recommended price: 365 czk
summary
This is the first ever in-depth interpretation of Czech Action Art as a vast and very original stream of Czech post-war art within the context of the region's complex socio-political history. Based on the author's more than decade-long research, her interviews with artists and interpretations of many of their performances and other actions, Czech Action Art also features a list of all Czech Happenings, events, performances, body-art pieces, land-art related and other actions from the 1960s to 1989. With more than 200 illustrations, many of which have never appeared in publications, it provides a vivid picture of the Czech performance art scene.
table of contents
List of Illustrations

Acknowledgements

Preface
Czech Action Art
The Artwork and Its Context - A Historical Framework
The Victory of the Idea over Matter - A Question of Documentation
Czech Performance Art from Futurism to the Present

I. A Breakthrough to the Everyday
1. Milan Knížák's Aktual
2. Czech Collective Actions

II. A Return to Nature
1. A Transformed Landscape
2. Nature and the Body
3. Elements

III. An Experience of the Body
1. The Prague Body-Art Troika
2. Performance Art of the 1970s and 80s

Epilogue
Post-1989 Czech Action Art

List of Actions
Czech Action Art 1960-1989

Bibliography
Index

reviews
This book is the first comprehensive academic study of Czech Action Art, including -performance, body art, and land art-related performance and actions, available in English. The fact that this pioneering study breaks new ground in terms of its subject matter is just one of its many merits. In this study, Morganova presents a nuanced overview of the genre of action art and its particular manifestations in the Czech Lands. Her analysis combines local and global art historical and socio-political contextualization. She not only places the artists and their artworks in a national context, informing the reader as to the local social, political and historic circumstances that stimulated and shaped the production of the work, but also makes parallels with Western European and North American counterparts, in order to draw out what is particular and unique about Czech Action Art.

A rich introduction sets up the context for the development of Action Art in the Czech lands, providing an overview of the socio-political context that was integral to the development of the genre. Morganova also addressed the difficulties that come with researching and writing on the topic, mainly with regard to documentation, as many of these works of art were not made with an awareness that they would eventually become historically important. The author's explanation is necessary to understand the methods that she used to create the first written history of Czech Action Art, relying heavily on original interviews with the artists and access to their personal archives. Finally, she discusses the likely sources for and pre-history of Action Art in Czechoslovakia, which was decidedly different from that of action and performance art in the West, namely in its absence of Dadaist and Futurist traditions.

Following the introduction, Morganova divided the text into three distinct sections, based on common themes that she observed in her research: action art relating to the everyday; land-based action art; and that which deals with the body. This division is helpful to understanding the varying manifestations of action art in the Czech lands. The author acknowledges that these categories are fluid, and throughout the text cross-references with other chapters when the work of one artist fits into more than one category.

The text strikes a good balance between historical contextualization and art historical analysis, and a number of artists and artworks are addressed. To the author's credit, this thorough coverage is not done at the expense of in depth analysis; none of the artists are glossed over and each is given a full discussion and analysis. Of particular interest is the second chapter, which focuses on Czech Action Art that is based on nature and the land. This is a unique strand of performance and action art that truly sets the Czech variant of the genre apart from other manifestations of it, and underscores the Czechs' unique contribution to the genre.
Chapters one and three will be of particular interest to those who are familiar with some of the internationally renowned figures of Czech Action Art, for example, Milan Knizak (who plays a prominent role in chapter one), and the Czech Body Art "troika," Petr Stembera, Karel Miler and Jan Mlčoch, who are featured in chapter three.

Finally, a substantial epilogue brings the reader up to date with what is happening currently in the genre of Action Art in the Czech Republic since the end of communism. This chapter is important, as it discusses the post-communist period, and demonstrates how Action Art continues to be a necessary and relevant genre to artists, despite the new freedoms that democracy brought with it. Together with the introduction, which offers the pre-history, it functions as a nice bookend to the main story of body and action art during the communist period.

This book has many strengths: it is written on the basis of several years of dedicated research to the subject, and informed by extensive interviews with the artists and access to of their personal archives. Next, it contains a rich bibliography of both Czech and international publications, which places it in dialogue with global art history. In its comprehensive treatment, it introduces the rest of the world to a number of unique and fascinating Czech Action artists. Furthermore, with more than 200 illustrations, many of which have never appeared in international publications, it provides a vivid picture of the Czech performance art scene. Given that there is currently a growing interest in the fields of performance, action and body art, particularly in Central and Eastern Europe, the timing of this publication could not be better. I am convinced that this book will be well-awaited and eagerly devoured by art historians throughout the world, as well as by those with an interest in the particular socio-political context in this part of Central and Eastern Europe.

Amy Bryzgel