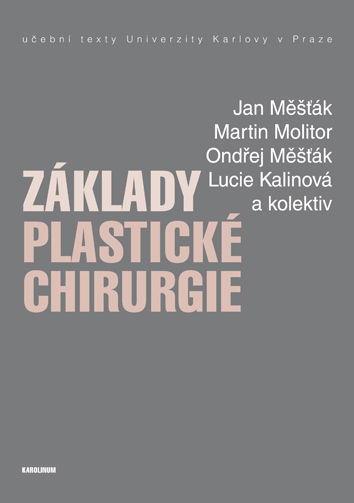 Základy plastické chirurgie
[Basics of plastic surgery]
Měšťák, Jan – Molitor, Martin – Měšťák, Ondřej – Kalinová, Lucie a kol.
subjects: medicine

paperback, 212 pp., 2. edition
published: november 2015
ISBN: 978-80-246-2839-4
recommended price: 280 czk
summary
This book presents the basics of plastic, reconstructive and aesthetic surgery. The authors respond to the fact that new procedures and experience in plastic surgery have emerged, just as in other medical fields, which significantly affect the quality of clinical work.
The book consists of two parts, general and specialized. The general part covers the principles of physiological surgery, alternatives for treating injured tissues, concealing defects through transplantation and flap surgery, as well as the use of microsurgery and endoscopy in plastic surgery. The specialized part presents current information on the surgical treatment of congenial and acquired defects, such as facial clefts, congenital defects of hands and genitals, as well as facial and limb injuries, including their solutions through reconstruction using microsurgical instruments. The book includes a new chapter on breast tumors and breast reconstruction following mastectomy and on burn treatment. Another section focuses on aesthetic surgery and handling cosmetic defects using modern methods to achieve the best results.
The book presents a comprehensive overview of the field. It is an outstanding source of information for the broad medical public. Medical students can use it to expand their general knowledge of surgical disciplines, doctors studying for their specialization certification will find useful information on plastic surgery and, last but not least, plastic surgeons can use it as a complex overview of information in the field. As plastic surgery has been gaining more use in interdisciplinary cooperation (general surgery, orthopedics, surgical cardiology, pediatric surgery, otolaryngology, jaw surgery, dermatology and many others), the book will be also useful for doctors of other specializations.
The logically structured text is supplemented by numerous illustrations.