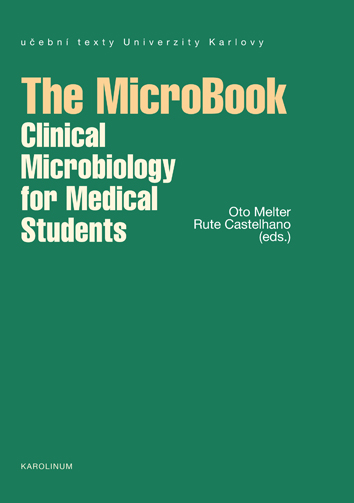 The MicroBook - Clinical Microbiology for Medical Students
Melter, Oto – Castelhano, Rute (eds.)
subjects: medicine

paperback, 328 pp., 1. edition
published: april 2019
ISBN: 978-80-246-3871-3
recommended price: 390 czk
summary
This textbook was designed to help students during their study of the extensive discipline of clinical microbiology. It can also serve as a practical companion for physicians in many fields, providing basic information related to the diagnostics of the most important causes of infectious diseases.
This book is unique in that it was written by medical students for medical students. Its core originated under the leadership of Doc. MVDr. Oto Melter, Ph.D., who wrote some of the chapters, structured information and took illustrative photographs. Most chapters, though, were written by a team of students from the 2nd Medical School, Charles University, led by Rute Castelhano, while Shenali Amaratunga edited the text linguistically.
The authors believe that the original photo-documentation and diagrams can help students better understand the topics covered. The textbook also includes case studies for students to practice basic knowledge in the field.