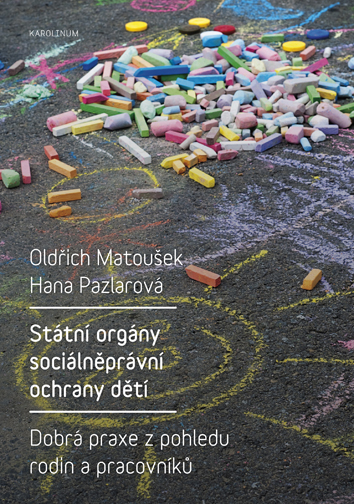 Státní orgány sociálněprávní ochrany dětí
Dobrá praxe z pohledu rodin a pracovníků
[State bodies in the social and legal protection of children]
Matoušek, Oldřich – Pazlarová, Hana
subjects: social work, law

e-book, 1. edition
published: november 2016
ISBN: 978-80-246-3347-3
e-book formats PDF
recommended price: 140 czk
summary
"Good practices" are methods of working that have been tested, tried out and considered successful. The criterion of success is based on an agreement between the people involved. Good practices should have a positive effect (for example, in social work, solving a difficult life situation of a client) recognizable by individuals independent of the program/service provider. Good practices should achieve positive effects while investing the minimum necessary means. Good practices should change the client's life situation as little as possible.
This book summarizes the results of research which took place in 2014 describing and analyzing the methods of operation used by the bodies involved in the social and legal protection of children (OSPOD) in the Czech Republic that are referred to as "good practices." It includes efficient methods of work with families that lead to the improvement of each family's situation.
We considered it important to involve social workers as well as the families subject to OSPOD interventions in the qualitative research. The respondent data is presented as summaries of interviews and through excerpts.
The wider public still considers OSPOD's activities in the Czech Republic as repressive and largely inefficient. The image of social work does not correspond with its importance to society. Therefore, we focused on the OSPOD methods that function well and truly help. We paid attention to workers who do their job well according to the families they work with as well as according to professionals from collaborating organizations. They can inspire not only social workers but also professionals.