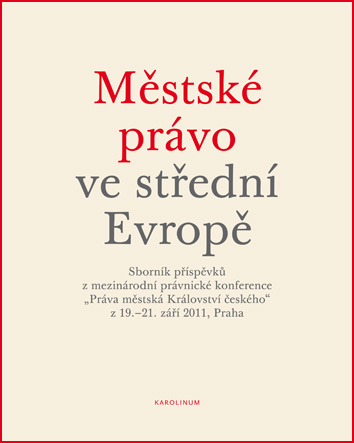 Městské právo ve střední Evropě
subjects: history – early modern, law – legal history

hardcover, 400 pp., 1. edition
published: february 2014
ISBN: 978-80-246-2113-5
recommended price: 150 czk
summary
This collection of essays entitled Municipal Law in Central Europe provides a new perspective of the current topic of municipal law in the legal historical science. At the centre of interest lies the Kingdom of Bohemia's Municipal Laws from 1579 and Pavel Kristián of Koldín, who contributed significantly to the code's final content. Municipal law (throughout Europe) regulated legal relationships which substantially differed from other legal regulations under which feudal society lived, and whose economic relationships were based primarily on the ownership of land and serfs. The law applicable in municipalities primarily regulated the relationships arising between free manufacturers or entrepreneurs and mainly for this reason was well suited for the acceptance of Roman law. Along with the canonical law, it imparted the basic features and principles of ancient legal culture to medieval society.
Individual contributions to the collection are dedicated, for instance, to Pavel Kristián of Koldín, the reception of the Municipal Laws of the Kingdom of Bohemia in the cities of the Magdeburg Law, the fate of the codification in the 17th and 18th centuries, and the end of the Municipal Laws of the Kingdom of Bohemia or the Roman legal principles in Koldín's work.
Historical analysis of the development of municipal law brings new findings on the medieval and early modern legal culture, on both the national development in Czech cities and the political and economic changes.