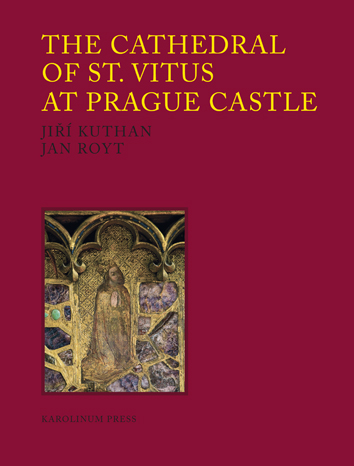 The Cathedral of St. Vitus at Prague Castle
subjects: architecture and urban studies, art, history

hardcover, 552 pp., 1. edition
translation: Miller, Sean Mark - Jones, Philip - Bryson Gustová, Anna
published: may 2017
ISBN: 978-80-246-3129-5
recommended price: 1300 czk
summary
The Cathedral of St. Vitus at Prague Castle is one of the symbols of the Czech statehood; it is the coronation and burial site of Bohemian kings and it has remained a leading Christian cathedral, the residence of archbishops, the venue for state ceremonies and, last but not least, a much sought-after tourist attraction. This book by renowned experts presents the history of the cathedral, inseparably linked to the history of the Czech Lands, in chronological order. This traditional exposition focusing on history and art history is based on the results of archaeological research as well as on preserved historical documents. The scholars present the circumstances of the cathedral's foundation by Charles IV in the 14th century, the progression of the construction, including later alterations and additions. The focus of their exposition lies in a detailed description of the sculpted and artistic decoration, significant monuments (St Wenceslaus' Chapel containing the crown jewels, the building's foundations, and the burial site of Bohemian kings). The text, set in a the broader context of the developments of European architecture, is richly illustrated with contemporary photographs, historical images, reconstructions and plans.

Prof. PhDr. Jiří Kuthan is a director of the Institute of history of Christian Art, Charles University Prague, Catholic Faculty. As an art historian and historian he specializes in Czech and Central European art and architecture of the 14th-16th century.

Prof. Dr. Jan Royt is a leading Czech Art historian with international reputation. He specializes in Czech Christian Art, Gothic and Baroque, christian iconography. Author of many articles, books and exhibitions. Head of the Institute of Christian Art History of Charles University, from 2014 Vice-Rector of Charles University.