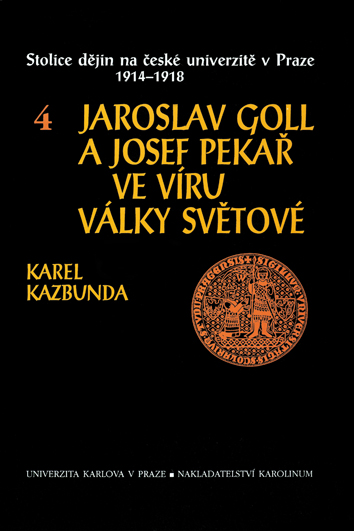 Jaroslav Goll a Josef Pekař ve víru války světové
subjects: history – 20th century

paperback, 220 pp., 1. edition
published: june 2000
ISBN:
recommended price: 105 czk
summary
Kazbunda, Karel: Jaroslav Goll a Josef Pekař ve víru války světové. Část IV. Stolice dějin na české univerzitě (1914?1918) (Jaroslav Goll and Josef Pekař in the whirl of the World War. Part IV. The Chair of History at Czech University (1914?1918))
Prague, The Karolinum Press 2000, paper, 220 pp., 1st edition, 320Kč
This comprehensive monograph from the unpublished works of historian Karel Kazbunda, completed and edited by Martin Kučera, is an account of the relation of the Austrian governments and Czech-German politics to the Czech nation in the years of World War One. This book thoroughly studies opinions and civil and political stances of the historians J. Goll and J. Pekař. It also presents so far unused or even unknown archive documents in Czech historiography, mainly from Vienna?s central archives. Kazbunda?s study concludes ?The Chair of History at Prague?s University? in four volumes. The previous three volumes were published in the second half of the sixties. This fourth volume is also loosly follows on from ?The Czech-German Question on the Eve of the Great War? (by Z. Kárník, published in The Karolinum Press in 1996).