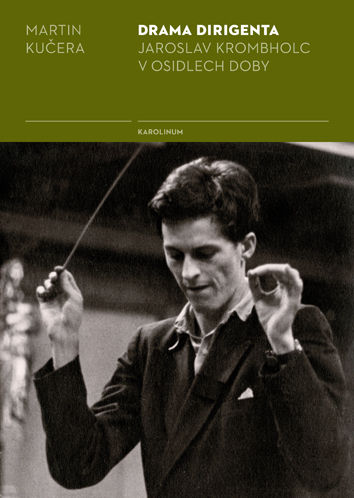 Drama dirigenta
Jaroslav Krombholc v osidlech doby
[Conductor's drama]
subjects: music, theater, history – 20th century

paperback, 536 pp., 1. edition
published: june 2018
ISBN: 978-80-246-3804-1
recommended price: 450 czk
summary
Conductor's Drama is the first extensive biography of Jaroslav Krombholc (1918–1983), the most talented conductor from Václav Talich's school, who was linked with the opera of the National Theater in Prague.
The scholar documents the life of Jaroslav Krombholc and his wife, opera singer Marie Tauberová, using sources available from their extensive estate as well as the archive of the National Theater and other institutions. He also draws on periodicals, accounts of direct witnesses as well as his own notes taken during meetings with the conductor, who was a relative of the author.
The book also includes erudite descriptions of performances and, to a smaller extent, also the composer's concert activities. The overall response to Krombholc's long-term cooperation with opera houses in Vienna, London and elsewhere clearly show that Jaroslav Krombholc was a world-class art personality and alongside Rafael Kubelík, Karel Ančerl and Václav Smetáček ranked among the best Czech conductors of the post-Talich generation. Last but not least, the monograph is a significant contribution to the critical history of the National Theater in Prague. The scholar's look behind the scenes of Czech post-war music and dramatic world documents the harshness of the regime towards all who strove for creative freedom in the totalitarian era.