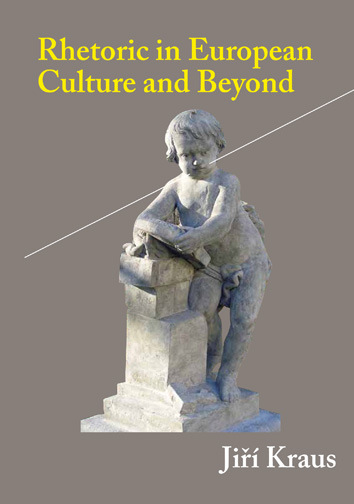 Rhetoric in European Culture and Beyond
subjects: literary criticism, aesthetics

paperback, 272 pp., 1. edition
published: march 2015
ISBN: 978-80-246-2215-6
recommended price: 395 czk
summary
This book, Rhetoric in European Culture and Beyond, defines the position of rhetoric in the cultural and educational systems from ancient times through the present. It examines the decline of its importance in a period of rationalism and enlightenment, presents the causes of why rhetoric (reduced to a system of rhetorical tricks) came to have negative connotations, and explains why rhetoric in the 20th century was able to regain its position. It demonstrates that the prestige of rhetoric sharply falls when it is reduced to a refined method for deceiving the public, and increases when it is seen as a scientific discipline that is used throughout all of the fields of the humanities – philosophy, logic, semiotics, literary science, linguistics, the science of media and others. In this sense, rhetoric strives for universal recognition and the cultivation of rhetorical expression, spoken and written, including not only its production but also reception and interpretation. In such a renaissance of interest, rhetoric appears not merely as a guide to language skills, but as a complex theoretical field examining human behaviour in social communication.
Chapters 1–9 describe the development of rhetoric from its Greek, Hellenic and Roman beginnings to rhetoric in the context of medieval Christian culture, later during the periods of humanism, Enlightenment, baroque. The final chapter is concerned with rhetoric in the 18th, 19th, and 20th centuries. It takes into account geography, including the history of rhetoric in France, Spain, Italy, Germany, England, Scotland, Poland, Russia, the Czech Lands, Moravia, Slovakia and from the 19th century in the United States.
The final chapter presents an answer to the question of whether corresponding systems of rhetorical knowledge have been formed beyond the borders of Mediterranean antiquity. The selected examples of theoretical works on "the art of speech" from India, the Middle East, China, Korea and Japan show that each language community forms its own concept, theory and practice of persuasive and suggestive speaking behaviours. Often such findings, instead of being used as manuals for the stylization and presentation of speeches, rather concentrate on analyzing written documents, in which we can find not only specific categorical devices of the given culture (as is the case with comments on the Vedic texts of ancient India) but also tropes and figures characteristic of Greek and Roman rhetoric, e.g., the Hebrew and Aramaic texts of the Old Testament.
table of contents
INTRODUCTION
History of Rhetoric – A Motionless History?

1. THE ORIGIN OF RHETORIC IN ANCIENT GREECE
The Search for Techné
Protagoras's Agonistic Rhetoric
First Teachers
Ancient Rhetoric as a Model of Persuasive Communication
Plato's Unending Dispute with Rhetoric
Isocrates's Programme of Rhetoric in Service of Political Culture
Aristotle as Ancient Rhetoric's Pinnacle
On the Art of Persuasion in Rhetoric to Alexander

2. HELLENISTIC AND ROMAN RHETORIC
The Birth of Hellenistic Philology
Rhetorical Instruction in the Hellenistic Period
Hermagoras of Temnos and the Stasis Theory
Rhetoric in Ancient Rome
Rhetorica ad Herennium (Ad C. Herennium de ratione dicendi libri quattuor) Cicero's Perfect Orator as a Citizen, an Advocate of Law and a Politician Quintillian's Institutes of Oratory
Pliny the Younger and Tacitus on the Role of Rhetoric in Imperial Rome
The Second Sophistic and Hermogenes's Rhetoric as a Stasis System

3. RHETORIC AND MEDIEVAL CHRISTIAN CULTURE
Rhetoric and the Seven Liberal Arts Allegory in Martianus Capella
Augustine of Hippo – Preacher, Rhetorician, Polemicist
Topica Boethii – Rhetoric in Service of Dialectics
Cassiodorus's Encyclopaedic View of the Christian World
Isidore of Seville and the Origin of Scholastic Education
Rhetoric as Part of Grammar: The Venerable Bede
Alcuin of York: a Teacher of Wisdom and Eloquence
Artes Praedicandi: The Art of Preaching in the Middle Ages
Artes Dictaminis: The Art of Rhetoric's New Face
Artes Poetriae: Theory and Practice of Written Discourse
Rhetoric in Medieval Byzantium

4. FROM HUMANISM TO THE ENLIGHTENMENT
Rhetoric during Humanism and Renaissance
Lorenzo Valla, a Renaissance Philologist
George of Trebizond
Byzantine Rhetoric after the Fall of Constantinople
Rudolphus Agricola
Rhetoric in the Works of Desiderius Erasmus
Philipp Melanchthon's Authority of Protestant Rhetoric
Petrus Ramus and Omer Talon. The Tradition of Philippo-Ramian Rhetoric Books
Francesco Patrizi's Perfetta Rhetorica

5. BAROQUE RHETORIC IN SERVICE OF THE CHURCH
Soarez's Jesuit Rhetoric
Caussin's Figures, Symbols and Emblems
Jesuit Rhetoric in Bohemia and Poland. Bohuslav Balbín
Protestant Rhetoric and Preaching Textbooks
Bartholomaeus Keckermann and the Gdaňsk Rhetoric
Vossius's Rhetoric of Rhetorical Affects
Comenius's Brethren's Rhetoric
Religious, Political and Cultural Prerequisites for the Rhetorical Boom in Russia and Ukraine

6. SCHOLARLY COMMUNITY REPLACED BY THE REPUBLIC OF LETTERS. PHILOSOPHY VERSUS RHETORIC AT THE THRESHHOLD OF A NEW ERA
Bacon's Polemical Dialogue with Rhetoric
Hobbes's Rhetoric as a Political Weapon
Bernard Lamy's Cartesian Inspirations

7. TASTE NORMS AND CRITERIA IN 18TH-CENTURY RHETORIC
Fénelon's Rhetoric as an Art of Portraiture
Du Marsais and His Project of Philosophical Rhetoric
Vico's Institutiones oratoriae and Project of a "New Science"
Rhetoric, Teaching Refined Taste (Bouhours, Rollin, Dubos)
Adam Smith and Scottish Rhetoric
Rhetoric in Spain and Gregorio Mayans y Siscar
Philological Orientation of Rhetoric in Germany – Johann Christoph Gottsched
Lomonosov and the Development of Classicism in Russia

8. RHETORIC IN THE 19th CENTURY
Friedrich Nietzsche and the Philosophy of Rhetoric
19th-Century Rhetoric in France. Fontanier's Semantic Theory of Tropes and Figures
19th-Century Rhetoric in England. Whately, Bain, Spencer
Jungmann's Slovesnost as Rhetoric for Readers' Edification and Taste

9. RHETORIC IN THE 20th CENTURY
Rhetoric – Inspiration for Language, Literary and Philosophical Discourses
Rhetoric in the United States against Barriers in Communication
Rhetoric since the Mid-20th Century in Germany and Austria
Theory of Argumentation in the Work of Chaim Perelman and Stephen Toulmin
Rhetoric in the Second Half of the 20th Century in Romance Countries

10. OTHER RHETORICAL THEORIES AND OTHER CULTURES

EPILOGUE

NOTES

SELECTED BIBLIOGRAPHY

NAME INDEX