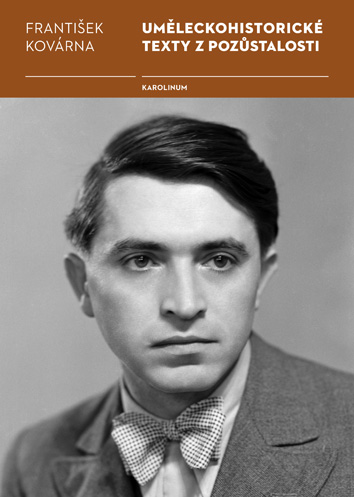 Uměleckohistorické texty z pozůstalosti Františka Kovárny
[Texts on Arts History from the Estate of František Kovárna]
Koukal, Jiří – Flekačová, Martina (eds.)
subjects: art

paperback, 182 pp., 1. edition
published: april 2014
ISBN: 978-80-246-2483-9
recommended price: 180 czk
summary
Professor of aesthetics František Kovárna (1905–1952) was respected primarily as an art theoretician and critic, however, he also engaged in literature; he wrote several plays, pieces of fiction, a collection of poems and translated from Italian and German. The scope of his cultural activities was extensive, yet he is still one of the less known figures of Czech intellectual history. His successful career was first thwarted by the Nazi occupation and later by the events of February 1948. He sought exile in Germany and France only to later settle in New York, where he died shortly after.
The selection from his estate contains three texts on art history previously unpublished in a single volume: a lecture on the issues of contemporary painting, summarizing Kovárna's objections to non-figurative art, On Artistic Mother Tongue, a torso of a book he was working on and which was covering Czech art in the 19th century, and the essay A Turnaround Generation, which attempts to define the generational trends and tendencies of young artists who began to exhibit in the early 1930s.
The publication's editors, Jiří Koukal and Martina Flekačová, supplemented the original texts with a foreword, Kovárna's brief biography and bibliography.