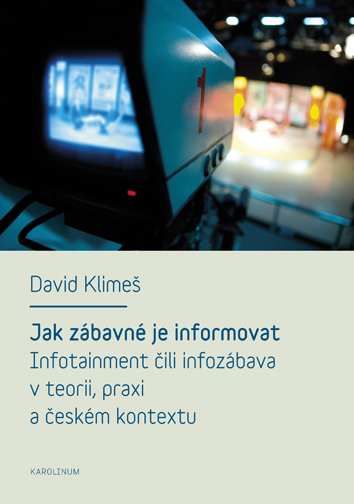 Jak zábavné je informovat
Infotainment čili infozábava v teorii, praxi a českém kontextu
[Informing is entertaining]
subjects: media and communications

paperback, 120 pp., 1. edition
published: october 2015
ISBN: 978-80-246-2973-5
recommended price: 150 czk
summary
"One team played very tough defence to force overtime. The other, hoping for a quick victory, pressed the attack."
A description of a sports match? No. This is how newspapers in 2008 reported on the presidential elections. Is it bad because they wanted to be too entertaining? Or is it beneficial because this explains complicated political processes to readers?
This publication summarizes theoretical thought on the penetration of entertainment into reporting and presents the concept of infotainment, which can be used to analyse individual infotainment phenomena. It also provides a new view of how to approach the spread of infotainment in the media.
A theoretical analysis of the notion of infotainment is seminal for anyone interested in the media and communication. The book will be of use to social sciences students as an overview of the potential of media content research, while the general public can enjoy reading about integration of the phenomenon in the specifics of the Czech context.