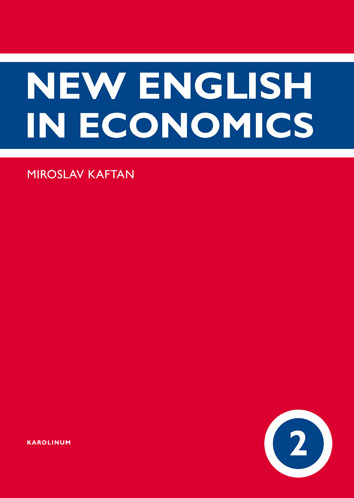 New English in Economics - 2. díl
[New English in Economics - Volume II]
subjects: language textbooks, economics and finance

paperback, 276 pp., 1. edition
published: august 2010
ISBN: 978-80-246-1809-8
recommended price: 270 czk
summary
This new, updated version of the successful textbook of English in Economics requires intermediate knowledge of English and is intended primarily for the students of economics at universities and colleges. The textbook consists of two volumes, divided into nine thematic chapters, each containing specialized texts, vocabulary and a number of grammatical and lexical exercises, or offering themes for discussion. It will help students in their subsequent study of texts in English, when participating in technical discussions, and the thematic Czech-English glossaries will also aid also translators or those writing specialized papers.
The texts cover the most up-to-date vocabulary covering the economic crisis or the development in Greece and the Euro area.
The new graphic layout emphasizes learning and clarity of the explanations of terms: volume II contains dozens of definitions and phrases, 50 diagrams, 17 charts and tables allowing for easier memorization of terms in English and the acquisition of knowledge in economics in general.

table of contents
Infation and employment
International Trade
Economic Policies
Firms