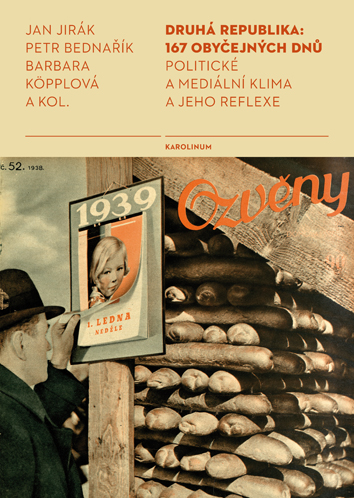 Druhá republika: 167 obyčejných dní
Politické a mediální klima a jeho reflexe
[The Second Republic. 167 Ordinary days.]
Jirák, Jan – Bednařík, Petr – Köpplová, Barbara a kol.
subjects: history – 20th century, media and communications

paperback, 200 pp., 1. edition
published: april 2017
ISBN: 978-80-246-3586-6
recommended price: 260 czk
summary
The period of the Second Republic is typically primarily addressed at the level of political history, examining the causes and consequences of the Munich Agreement, the behavior of prominent politicians active in international and domestic politics, and the key political, demographic and cultural consequences. This book strives to depict the period delimited by the signing of the Munich Agreement in September 1938 and the occupation of the rest of the Bohemian Lands and Moravia by the German occupation forces, focusing on the practical, daily issues that arose in this period and that had to be addressed – starting from organizational consequences of expelling the Czech-speaking population from the Sudeten territory, and coming to terms with the expressions of animosity, anti-Semitism and xenophobia which grew in intensity in Czech society, through the transformation of the status of the German-language regional press.
This book is a joint work by a group of scholars (from the Faculty of Social Sciences, Charles University, and the Metropolitan University Prague), who set it as their goal to present the theme of the Second Republic, including its media production, personnel development of the cultural production in the period (including cinematography) and the functioning of state institutions, which up until now has not been the subject of much research.