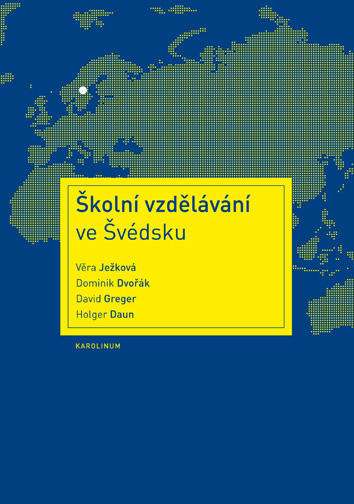 Školní vzdělávání ve Švédsku
[School Education in Sweden]
Ježková, Věra – Dvořák, Dominik – Greger, David – Daun, Holger
subjects: education – school systems

paperback, 192 pp., 1. edition
published: march 2012
ISBN: 978-80-246-2021-3
recommended price: 190 czk
summary
This analytical and comparative study is the third publication in the series Školní vzdělávání v .. [School Education in … ], following the publications School Education in Germany and School Education in Great Britain.
The section of the book written by Czech scholars offers "a view from outside," which can be considered "objective," "neutral," unaffected by their own personal experience. The "view from inside" is represented by the closing chapter written by their Swedish collaborator.
The study focuses on essential problems of Swedish school education as they appear to be relevant also for the development of Czech school education.
The study consists of nine chapters. It opens with a description of the context of school education, moving on to Swedish education policy and the characteristics of the educational system in Sweden. Chapters 4-9 provide a detailed view of the current themes in the Swedish educational policy in the area of school education - private schools, school evaluation and pupil evaluation, curricula, fairness in school education, national and ethnic minorities in the Swedish school education, and languages and language education in Sweden. The last chapter describes educational policies since the introduction of obligatory elementary schooling in 1962, including the restructuring measures implemented in the 1990s as well as changes passed in 2010.
This book is intended for education researchers and experts, teachers and students at faculties of education and other faculties educating future teachers, representatives of the Ministry of Education, Youth and Sports of the Czech Republic as well as state administration employees involved in education.