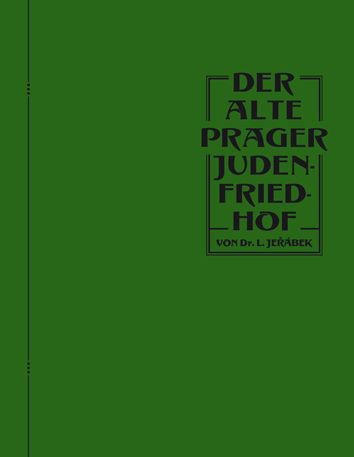 Der alte Prager Judenfriedhof
subjects: Jewish studies, architecture and urban studies, Prague

paperback, 94 pp., 1. edition
published: november 2009
ISBN: 978-80-246-1719-0
recommended price: 440 czk
summary
A reprint of this charming book on the history of Prague's most famous cemetery, originally published in Czech and German versions in 1903. The exposition simultaneously covers the history of Prague?s Jewish community and its prominent figures. It also describes the most interesting tombstones and presents both well-known as well as neglected legends and stories.
The book contains 23 full-page period photographs capturing the look and atmosphere of the cemetery at the "pre-tourist" time.
Dr. Lubomír Jeřábek (1864-1937) was a leading promoter of old Prague and campaigner against the redevelopment of the area. The text, valuable for its distinctive cultural and esthetic value, will undoubtedly give pleasure to anybody interested in the unique atmosphere of the living organism of old Prague.
table of contents
Alte Grabmäler aus dem ehemal. jüdischen Friedhof in der Wladislawgasse.
Der nordöstliche Teil des Friedhofes.
Ansicht von der Klaussynagoge gegen Süden.
Partie vom Kunst-Gewerbe-Museum aus, in der Umgebung vom Grab des Rabbi Löw, mit der Westseite der Klaussynagoge im Hintergrunde.
Partie von der Westseite der Klaussynagoge aus, um das Grabmal des Mardachai Meisel.
Partie mit Mardachai Meisels Grabmal in der Mitte. Partie gegen Nordwest in der Nähe der Pinkas-Synagoge.
Josua Ben Jehuda (Vorbeter).
Abhigdor Karo.
Israel Ben Salman Jesaias Horowitz (Horwitz, Hurwitz).
Grabstein der Buchdrucker Mardachai Zemach und dessen Sohnes Bezalel, Kohanim.
Mardachai (Sohn des Samuel) Meisel.
Salomon Ben Jechiel, Mardachai Meisel.
Jehuda Ben Bezalel Löw.
Grabreihe der Schüler des Rabbi Bezalel Löw.
David Gans.
Hendel, Tochter Eberl Geronims, Gattin des Jakob Bas-Schewi von Treuenberg.
Wolf (Ben Jechiel) Spira.
Josef Salomo ben Elias del Medigo de Candia.
Aron Simon Spira, Prager Oberrabbiner und Landesrabbiner im Königreiche Böhmen. (Sohn des Wolf Spira.)
David (Sohn des Abraham) Oppenheim.
Moses (Sohn des Lippmann) Beck (der letzte hier im J. 1787 Begrabene).