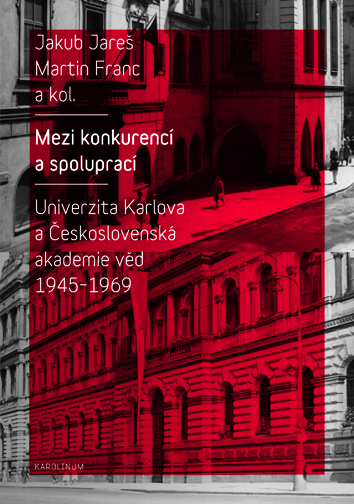 Mezi konkurencí a spoluprací
Univerzita Karlova a Československá akademie věd 1945–1968
[Between competition and cooperation]
Jareš, Jakub – Franc, Martin a kol.
subjects: history – 20th century

paperback, 362 pp., 1. edition
published: november 2018
ISBN: 978-80-246-3978-9
recommended price: 370 czk
summary
This book's subject is the overall and significant transformation of our university and research programs over a span of twenty-five years after World War II. It is a period during which science and university education underwent dynamic development on a global scale. In the Eastern-bloc dictatorships, these changes were in a way more radical, partly thanks to the political dictate which at first glance simplified their enforcement. The scholars follow this transformation, which they define as a period during which a gradual and rather difficult search is undertaken to find a functioning model for the activities of research and university institutions, which were sometimes viewed narrowly as part of the socialist "production power," and later as a respected brain trust, which was to participate at an expert level in formulating significant political and economic strategies, as well as decision-making. The development of science and university education is viewed from different perspectives, with the main direction however being the perspectives of two leading institutions which at the same time both complemented and competed with each other – Czechoslovak Academy of Sciences and Charles University.