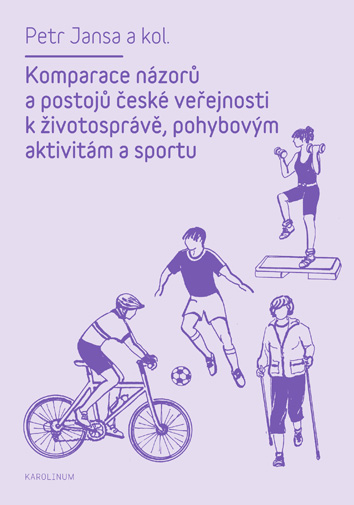 Komparace názorů a postojů české veřejnosti k životosprávě, pohybovým aktivitám a sportu
[A Comparison of Views and Attitudes to Lifestyles, Physical Activities and Sport in Czech Population]
subjects: sports and physical education – sociology

e-book, 1. edition
published: april 2015
ISBN: 978-80-246-2458-7
e-book formats PDF
recommended price: 100 czk
summary
This monograph includes two partial research projects in education focusing on the comparison of views and attitudes in selected groups of the Czech population, in which the respondents answered questions related to their daily routines, lifestyles, psychosocial roles of physical activities and sport.
The first study focused on comparing views and attitudes within the Czech adult population on the above topic in 2000 and 2010. The presented outcomes present some troubling data concerning the trends among adult population in the Czech Republic, particularly increases in daily stress and alcohol consumption.
The second research looked into the important population group of Czech primary and secondary school teachers, comparing their views and attitudes on lifestyle and the roles of physical activity and sport. The teachers' attitudes towards physical activities and sport are very positive and beneficial for the society.