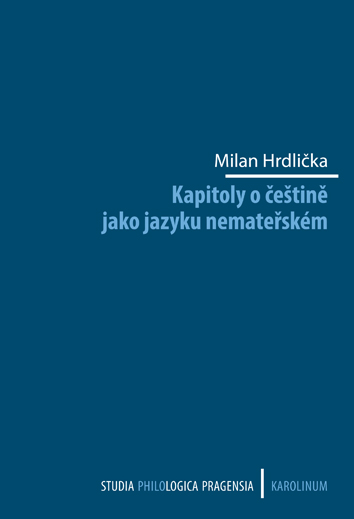 Kapitoly o češtině jako jazyku nemateřském
[Chapters on Czech as a non-native language]
subjects: fiction, linguistics

e-book, 1. edition
published: march 2019
ISBN: 978-80-246-4297-0
e-book formats PDF
recommended price: 160 czk
summary
In this compilation by Milan Hrdlička, a lecturer in Czech studies, the author surveys the last 10 years of his publication activities in the field of teaching Czech to students with a mother tongue other than Czech. It is based on his long-term pedagogical and research experience, as well has his observations, and theoretical evaluation of the results are backed by extensive examples. The experience of the Czech lecturer's contact with other language environments is confirmed not only by working with foreign students in Czech campuses, but also by the authentic knowledge gained during a long-term research stay in South Korea.
The scholar arranged selected essays into sections according to the magazines in which they were published (Český jazyk a literatura and the Polish magazine Bohemistyka); the third section contains miscellaneous entries. He introduces the book in a foreword, briefly characterizing the motivation and circumstances under which the project originated. Two short fiction-like entries suggest that it is to some extent a retrospective work, which is at the same time intended for wider circle of readers.
The publication is completed by the author's English resumé and bibliography between 2016–2018.