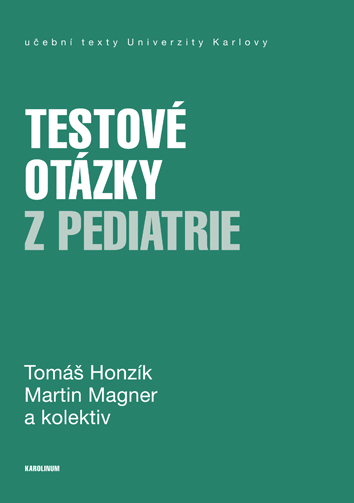 Testové otázky z pediatrie
[Test questions in pediatrics]
Honzík, Tomáš – Magner, Martin a kol.
subjects: medicine – pediatrics

paperback, 122 pp., 1. edition
published: march 2020
ISBN: 978-80-246-4556-8
recommended price: 160 czk
summary
This book contains a set of test questions in pediatrics and aims to review the basic curriculum and to define the approximate scope of expected knowledge for the final state exam in pediatrics. The questions are divided into fifteen chapters following the different specialties within pediatrics. The largest segment is devoted to the introduction to pediatrics focusing on the growth and development, and on the specifics of child physiology. It includes different pediatric fields: dermatology, endocrinology, gastroenterology and hepatology, hematology, cardiology, pulmonology, rheumatology, nephrology, neonatology, oncology and immunology. Another chapter provides more significant coverage of the acute states in pediatrics. The book also includes questions from related disciplines, such as genetics and specifics of radiology in children.
Selected questions are formulated with the simulation of real-life clinical situations and the necessity of decision making regarding further diagnostics or treatment. The tests are intended to inspire students to think about the topics and to study supplementary pediatric literature.