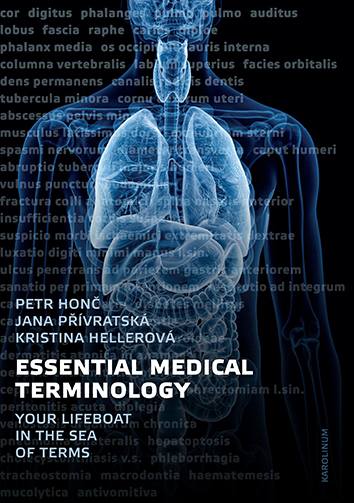 Essential Medical Terminology
Your Lifeboat in the Sea of Terms
Honč, Petr – Přívratská, Jana – Hellerová, Kristina
subjects: language textbooks, linguistics

e-book, 1. edition
published: february 2023
ISBN: 978-80-246-5374-7
e-book formats PDF
recommended price: 250 czk
summary
Intended for English-speaking students of medical faculties, the present publication provides an introduction into the language of medicine, explaining basic Latin grammar and containing important vocabulary to be used by the students later during their studies as well as in medical practice. The first part of the textbook focuses on noun and adjective inflection, while the second section concerns word formation. The final chapter offers excerpts of authentic pathological diagnoses and uses specific examples to discuss prescription writing and its formal aspects. The textbook is appropriate for schoolwork as well as self-study.
• Accompanying digital materials available through the Moodle learning platform (additional exercises corresponding to each chapter and short quizzes with immediate feedback).
• Illustrations for students yet without basic anatomical knowledge.
• Revision chapters with exercise keys.
• List of the most frequent abbreviations and an overview of basic medicaments.
• Latin-English dictionary.