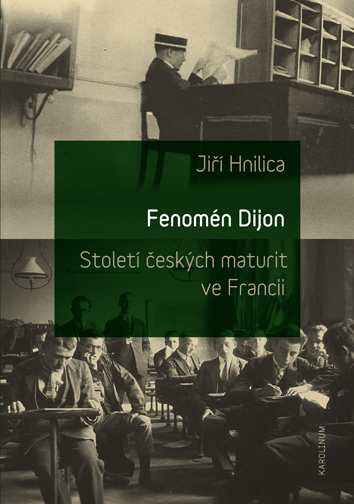 Fenomén Dijon. Století českých maturit ve Francii.
[The Dijon phenomenon. A century of Czech graduation exams in France]
subjects: history – 20th century

paperback, 512 pp., 1. edition
published: september 2017
ISBN: 978-80-246-3514-9
recommended price: 450 czk
summary
Jiří Voskovec, Václav Černý, Čestmír Císař, Zdeněk Troška, four generally well-known names, are connected through the French graduation exam. This basic fact is often shrouded in ambiguity, even myths. "The Dijon Phenomenon" strives to deconstruct the myths and present the first comprehensive and critical history of Czech (Czechoslovak) sections at French secondary schools, in which approximately one thousand students have studied in France through the present day.
This educational institution, unique for its tradition, is studied on three mutually interconnected levels. Firstly, from the perspective of cultural and political relations between the Czechoslovak (Czech and Slovak) Republic and France over almost one hundred years of diplomatic relations. Secondly, the book follows the transformations of the study, focusing on the functioning of the French Lycee as well as methods and conceptions of instruction. The last analyzed level, which is for many reasons also the most important, presents "collective biographies" of former students over the course of the troubled 20th century. Considering the fact that these sections were always closed down during times of restricted freedom (1940–1945, 1948–1965, 1974–1989), the "Dijon Phenomenon" represents a seismograph of Czech affiliation to the West and the role of "western" education in Czech society.