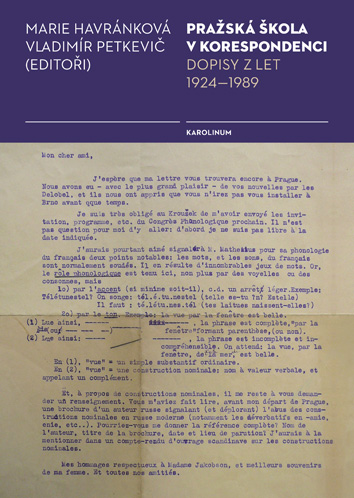 Pražská škola v korespondenci
Dopisy z let 1924–1989
[Correspondence of the Prague School]
Havránková, Marie – Petkevič, Vladimír (ed.)
subjects: Czech studies, literary criticism, biographies and memoirs

paperback, 798 pp., 1. edition
published: january 2015
ISBN: 978-80-246-2742-7
recommended price: 590 czk
summary
The Prague School became an icon in world linguistics of the 20th century: based on the Course in General Linguistics by Ferdinand de Saussure and on observations of Russian formalists, it co-created and promoted structuralism as a modern, dynamic research area in both linguistics and literary science. Its representatives, Vilém Mathesius, Bohuslav Havránek, Roman Jakobson, Jan Mukařovský a Bohumil Trnka, who were founding members of the Prague Linguistic Circle (1926–1952), released a series of publications with international participation, primarily Travaux du Cercle linguistique, and also participated in broad scientific discussions at pan-European congress meetings. A number of foreign scholars presented lectures in the Circle.
This volume containing correspondence of the Prague School thematically touches all aspects of this association's activities. It presents written treasures by both Czech and foreign scientists, and by Czech avant-garde artists, addressed to the five founders. This collection, consisting of 581 letters written in both world and also other Slavic languages, presents the most precious scientific legacy of the school preserved in written correspondence. Letters from linguists in the Copenhagen School (29 letters from Louis Hjelsmlev) and the Geneva School are particularly noteworthy; among items written in Czech, this includes letters from Mathesius to his students, and extensive correspondence from Josef Vachek, Felix Vodička and René Wellek. The bitter fate of the structuralists after World War II is documented in Vachek's letters addressed to Havránek, as well as other letters adressed to him from Alexander Isachenko and Ľudovít Novák.
The foreign-language letters are published in their original text as well as in Czech translations.