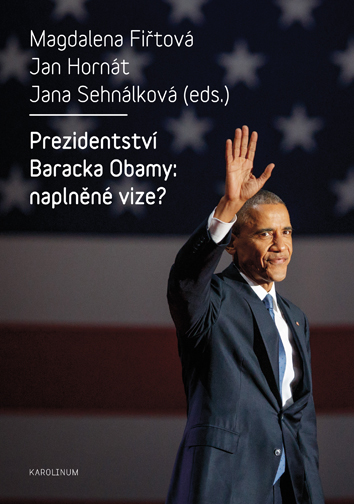 Prezidentství Baracka Obamy: naplněné vize?
[Barack Obama's presidency: fulfilled visions?]
Fiřtová, Magdalena – Hornát, Jan – Sehnálková, Jana (eds.)
subjects: political science and international relations

paperback, 354 pp., 1. edition
published: may 2017
ISBN: 978-80-246-3557-6
recommended price: 390 czk
summary
Did Barack Obama bring his visions to life during his presidency (2009–2017)? Did he become who he aspired to be – a president of transformation who would pump fresh blood into the frustrated American society, fulfilling its need to find a new definition for the USA's role in the world? With the end of his presidential term, it is worthwhile to evaluate whether the expectations for changes that Barack Obama awakened among American voters and the world-wide public were fulfilled. The book offers a view from "outside", written by Czech experts on American studies, "into" the burning social issues that weigh down on Americans and presents an explanation of the foreign political involvement of the USA. In the context of the contemporary, rapidly-changing, often chaotic world, trans-Atlantic relations remain the key pillar of the foreign and security policy of the Czech Republic. Despite an early evaluation of Barack Obama's presidency, this effort to introduce the colorful American discussion about the direction the USA has been heading to the Czech environment could be useful to anyone interested in the "history of the present time" because we believe that this knowledge helps influence our future.