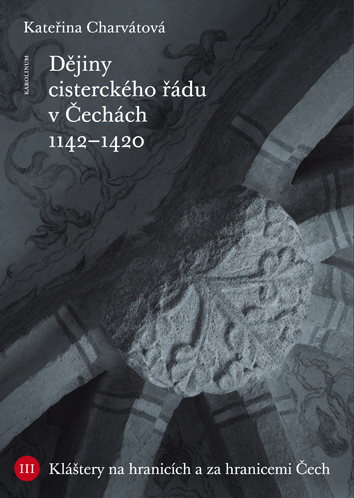 Dějiny cisterckého řádu v Čechách. Svazek III.
Kláštery na hranicích a za hranicemi Čech
[A History of Cistercian Order in Bohemia. Volume 3]
subjects: history – medieval

paperback, 354 pp., 2. edition
published: may 2018
ISBN: 978-80-246-3807-2
recommended price: 400 czk
summary
Monasteries at the Bohemian Border and Beyond, is the third, updated and expanded volume of the History of Cistercian Order in Bohemia (1142–1420), which was initially published in 2009. Compared to the first edition, this volume contains the results of further study of sources as well as new information presented in Czech and foreign literature.
The first part presents the history of two monasteries, which were part of the Bohemian Kingdom in the Middle Ages, although at present they are located outside the territory of Bohemia: Marienthal in Saxony and Žďár nad Sázavou (Saars) in Moravia.
The middle part of the book focuses on contacts Bohemian monasteries maintained with Cistercian monasteries in neighboring countries. It presents new passages addressing the ties of Bohemian monasteries to their mother cloisters on the territory of contemporary Germany and Austria. The section on burials of Bohemian princesses and other members of the ruling families in Bohemia in Cistercian monasteries has also been significantly expanded.
The closing section of the book includes four chapters focusing on German and Austrian monasteries which in the Middle Ages acquired property enclaves in Bohemia (Waldsassen, Altzelle, Grünhain, Zwettl). These chapters are shorter than chapters on Marienthal and Saars as they primarily focus on presenting the ties these institutions had to the Bohemian environment.
The text is complemented by numerous illustrations (107 photographs and 23 maps and drawings), which represent an important contribution to the book. The book has a new graphical design and includes many new photographs and maps.