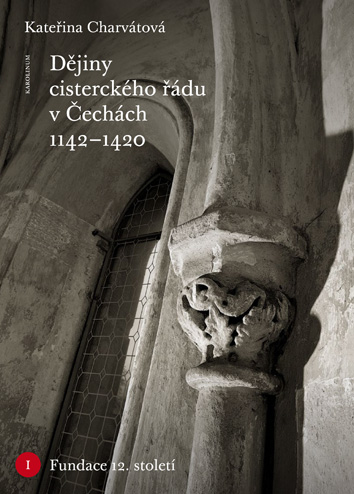 Dějiny cisterckého řádu v Čechách (1142-1420). Svazek I. Fundace 12. století
[A History of the Cistercian Order in Bohemia 1140–1420. Volume I. Foundation in the 12th Century.]
subjects: history – medieval

paperback, 484 pp., 2. edition
published: april 2013
ISBN: 978-80-246-2200-2
recommended price: 400 czk
summary
The first volume of a four-volume work focuses on the history of the five oldest Cistercian monasteries in Bohemia: Sedlec, Plasy, Pomuk, Hradiště nad Jizerou and Osek. This book was first published in 1998 on the occasion of the 900th anniversary of the foundation of the Order of Cistercians. The presented second and revised edition, published 15 years later, took advantage of further research in archives as well as contemporary literature, primarily that which was published abroad.
The first part of the book covers the foundation and development of the order prior to the 15th century, the organization of the Order of Cistercians, life in a monastery, its liturgy and architecture, and the unique Cistercian economic model. Compared to the first edition, the section focusing on the Order of Cistercians was expanded to add other perspectives, such as Cistercian spirituality, Cistercian law or important administrative institutes of the order, such as order visitations and General Chapter.
The general sections and a brief overview of the beginnings of the order in the Czech Lands are followed by a summary of information about sources of history of the Order of Cistercians in Bohemia prior to 1420 and an overview of existing research.
The core of the book consists in five chapters covering the history of oldest Cistercian monasteries in Bohemia: Sedlec, Plasy, Pomuk, Hradiště nad Jizerou and Osek. Each portrait starts with the foundation of the monastery and ends in the early 15th century when these monastic institutions were conquered by the Hussites who put an end to their monastic life. All of the five monographic chapters have a similar structure: the first part focuses on the history, viewed from different perspectives. Further sections cover the material provisions of monasteries and their economic activities throughout the centuries. The chapters end with sections on the artistic and intellectual activities of Cistercians.
The book is richly illustrated: the new edition contains over 160 black-and-white photographs and almost 30 maps, diagrams and drawings, which complement the text and, along with the new graphic design, make it more attractive for readers.