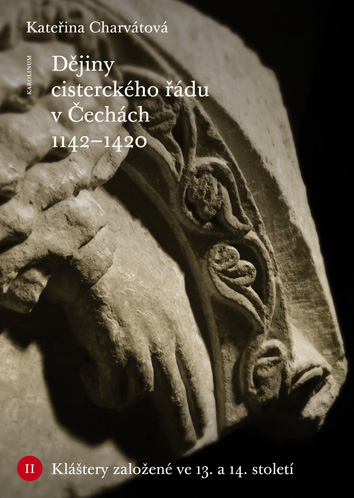 Dějiny cisterckého řádu v Čechách 1140-1420. Svazek II.
[A History of the Order of Cistercians in Bohemia (1142-1420). Volume II.]
subjects: history – medieval

paperback, 468 pp., 2. edition
published: november 2014
ISBN: 978-80-246-2611-6
recommended price: 400 czk
summary
The second volume of A History of the Cistercian Order in Bohemia presents a comprehensive description of the history of Czech Cistercian monasteries founded in the 13th and 14th centuries, monasteries in Vyšší Brod, Zlatá Koruna, Svaté Pole, Zbraslav and Skalice and convents in Pohled and Sezemice. Descriptions of individual abbeys are structured in the same manner as in the first volume. Each chapter opens with a brief introduction, followed by a section on the foundation of the abbey, then an overview of the history up to the beginning of the Hussite wars and a section on the sources available to historians. The exposition continues by presenting sections on the institution's relation to the curia, Cistercian order and Czech monarchs. Abbeys and their representatives are addressed in sections entitled Abbots, or Abbess. Focus then shifts on to the material side of abbeys, their land holdings, colonization activities and information on economic activities in the Middle Ages. Images of individual abbeys are completed with expositions on architecture, preserved works of arts, libraries and spiritual activities of monks of the abbey. The text is complemented with numerous illustrations, including photographs and maps. When preparing the second edition, the scholar completed individual portraits of abbeys with new literature and new information, large amounts of which have been surprisingly accumulated since the first edition of this book twelve years ago.