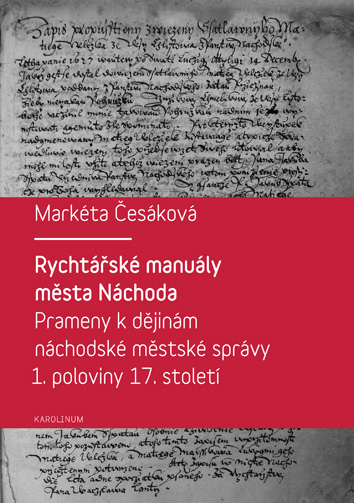 Rychtářské manuály města Náchoda.
Prameny k dějinám náchodské městské správy 1. poloviny 17. století
[The Magistrate Manuals of the City of Náchod. Sources for the History of the City Administration of Náchod in the 1st Half of the 17th Century]
subjects: history – auxiliary sciences, history – early modern

paperback, 346 pp., 1. edition
published: september 2013
ISBN: 978-80-246-2122-7
recommended price: 325 czk
summary
The city annals, into which the agendas of the magistrates' offices were recorded, are among the most important sources of information that aid in explaining the role of the magistrates in city administration. These archives from the environment of a specific subject town are used in The Magistrate Manuals of the City of Náchod, which focuses narrowly on the analysis of the oldest preserved annals from Náchod magistrate's office during the 1st half of the 17th century. This work looks at the magistrate manuals not only from the perspective of their contents, but also as a distinct diplomatic category. By following the external signs, it attempts to reconstruct the genesis of these city annals and on the basis of a paleographic and diplomatic analysis it evaluates the typology of the records, identifies the individual authors and locates them in the organizational structure of the city offices. A separate analysis is directed at standardization of the legal acts recorded in the annals for the purpose of further specifying the competencies of the magistrates as an body of the Náchod city administration in the 1st half of the 17th century.