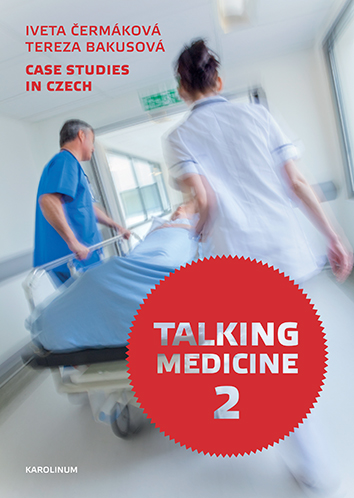 Talking Medicine 2: Case Studies in Czech
Čermáková, Iveta – Bakusová, Tereza
subjects: language textbooks

paperback, 258 pp., 1. edition
published: march 2022
ISBN: 978-80-246-5048-7
recommended price: 260 czk
summary
This textbook is a sequel to the book Talking Medicine. It is intended for foreign medical students who study at Czech medical faculties and need to communicate with patients and medical staff in Czech hospital settings and work with basic medical documentation. The book is English-based and is therefore suitable for both classrooms and for self-study. The textbook is built around a series of case studies from a variety of specialized fields.
To facilitate the learning of history taking skills, the textbook contains many recordings of doctor-patient dialogues. It is hoped that this textbook will, in a structured and systematic way, increase student understanding of history-taking techniques and concepts as well as introduce new terminology, which will lead to more efficient and effective hospital interactions and communication.

Archive with audio tracks.
Download