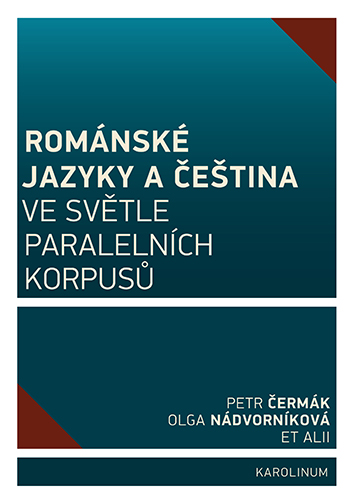 Románské jazyky a čeština ve světle paralelních korpusů
[The Romance Languages and Czech in the Light of Parallel Corpora]
Čermák, Petr – Nádvorníková, Olga a kol.
subjects: linguistics

paperback, 320 pp., 1. edition
published: october 2015
ISBN: 978-80-246-2872-1
recommended price: 370 czk
summary
This monograph, The Romance Languages and Czech in the Light of Parallel Corpora, verifies the usability of parallel corpora, specifically the InterCorp parallel corpus (http://ucnk.ff.cuni.cz/intercorp), for its comparative analysis of the Romance languages (Spanish, French, Italian and Portuguese) and Czech. It deals with four selected themes which represent structurally different phenomena in the Romance languages, and examines their Czech counterparts from a systematic perspective based on materials taken from the InterCorp corpus. It analyzes phenomena such as causative constructions of hacer / faire / fare / fazer plus an infinitive, complex words with the prefixes re- / re- / ri- / re- and suffixes -ble / -ble / -bile / -vel, ingressive verbal periphrases and gerunds. Given its overall comprehensiveness and complexity, the resulting set of correspondences and differences between the languages under analysis represents a significant shift in the field of comparison of the Romance languages and Czech, backed up by real data in the form of tables and graphs, and allows us to adjust some of our previously held more or less intuitive conclusions. The monograph also represents a contribution to the methodologies used in the field: it demonstrates the potential and limitations of the methodology of parallel corpora.